These are the very very best paleo recipes in the world. They have all been pinned on Pinterest over half a million times!! Can you believe all these best Paleo recipes have been pinned at least half a million times! Seriously. That's a lot of pins. There's got to be a reason these are all so popular.
People pin recipes when they think they look good and want to try them. So if these recipes have been pinned half a million times that means that at least half a million people want to try them. It could also mean they have tried them and want to keep them on one of their boards so they can find them easily. Whatever the reason, a lot of people like these recipes.
Notice that some of these recipes are even my very own recipes that I've developed. That really makes me feel happy and good. People like my recipes! 🙂
*Please note that most of the links on this page are affiliate links. This means if you click on a link and purchase, you will receive the same price, but I will receive a little money for referring you to the product. This helps keep this blog free for you. I truly appreciate you supporting my blog.
---
MY OTHER RECIPES
I'm going to just keep this listing going, since this is a rather elite club to be in and just add more recipes as I find them, so save this post so you can refer back to it over and over again.
If you like the Best Paleo Recipes, you may also like these recipes:
12 of the Best 30 Minute Quick and Easy Paleo Dinner Recipes
9 of the Best Paleo Pasta Dishes Without the Carbs
25 Best Paleo Dinner Recipes with Over 50,000 Pins!
The 25+ Most Pinned Paleo Recipes with Over 50,000 Pins!
9 Paleo Bacon Recipes Plus Paleo Bacon Brands
Salmon – Lemon – Dill
This very simple baked salmon is so quick and easy to make. It only has three ingredients if you don't count the five herbs. If you are afraid of cooking salmon like I used to be you should try this recipe. Your fears will disappear and you'll be making baked fish every week. Yes, you can also use this recipe for other types of fish.
Tapioca Starch – Chicken Thighs – Onion – Sun-Dried Tomatoes – Coconut Milk
This is the most popular recipe on my blog. I mean, just look at it! It's so easy to throw in the oven and it ends up so flavorful and all roasted to perfection. You have got to try it soon if you haven't already.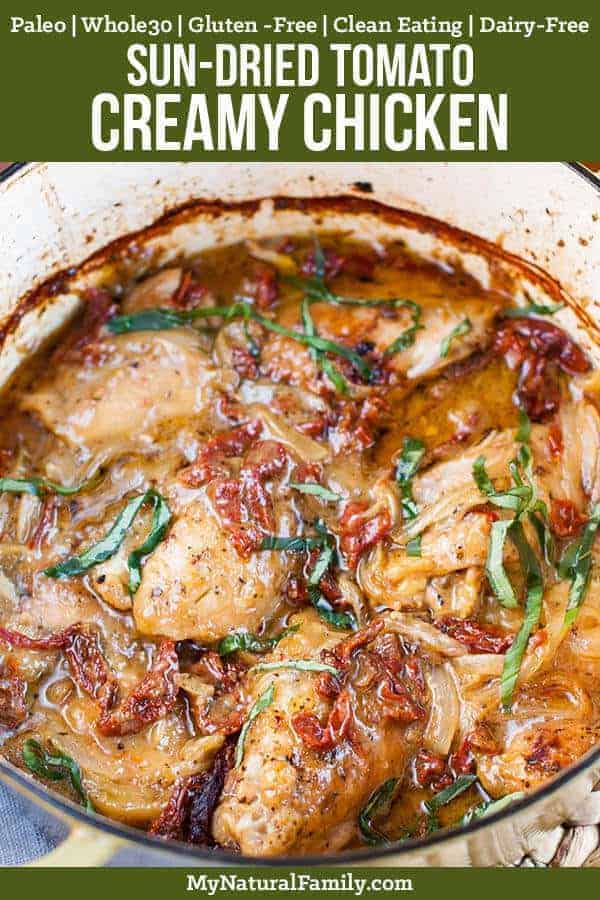 Bananas – Butter – Coconut Milk – Pecans
This ice cream is made without any added sugar and it only has four ingredients so that means it's pretty easy to make. I adore ice cream but my waistline sure doesn't like it. But I can eat all I want of this because there is no sugar in it. If you've never tried brown butter before, you really should try it on this recipe. It gives it a deep nutty flavor; you could almost say it tastes caramelized.
Coconut Flour – Almond Flour  – Eggs – Coconut Milk – Cinnamon – Eggs – Honey – Baking Powder – Butter – Coconut Cream – Coconut Palm Sugar
These are really good cupcakes to make for a Paleo diet because they already have a darker color since almond flour and coconut flour naturally have a darker color. The snickerdoodle flavoring with the cinnamon adds to that darker color so it just naturally fits in. The top is sprinkled with cinnamon sugar made with coconut palm sugar which gives it a fun texture. I think the snickerdoodle gives it a natural look and flavor.
Beef Short Ribs – Real Salt – Black Pepper – Tomato Paste – Olive Oil – Onion – Garlic – Balsamic Vinegar – Fresh Rosemary – Red Wine or Beef Broth
These short ribs are really easy to make because there are only seven ingredients. That's one way I judge whether something is easy to make or not. I used to think that BBQ ribs and short ribs were basically the same things. I was wrong again. I like the texture of short ribs better and I think they have a richer flavor. They have more flavor because which comes from the fat, the bone and where the meat is on the cow. I brown the ribs first then cook them in a crockpot which makes them so tender they fall off the bone.
Chuck Roast – Parsnips – Onion – Carrots – Beef Broth  – Garlic Powder – Onion Powder – Italian Seasoning  – Real Salt – Black Pepper
Cooking a pot roast in the crock pot really is the way to go. It makes the roast so tender and it just melts in your mouth if it's cooked right. You could make this with any kind of potato you want or you could even use parsnips instead. I cut the vegetables into big chunks so they don't go as mushy. Actually, sometimes I don't even put the vegetables in the crockpot until there are only a couple hours left for the roast to cook. I recommend you make the gravy. I have the most success with this method of making gravy, it prevents clumps.
Salmon – Lemon Juice – Garlic – Butter – Italian Seasoning – Red Pepper Flakes – Fresh Parsley
Hard Boils Eggs – Avocado
Chicken Thighs – Smoked Paprika – Garlic Powder – Red Pepper Flakes – Chili Powder – Honey – Apple Cider Vinegar
Butter – Shrimp  – Garlic – Chicken Stock – Lemon Juice – Fresh Parsley
Chicken Thighs – Real Salt – Black Pepper – Oil – Coconut Milk – Dried Basil – Curry Powder – Chili Powder – Red Onion – Garlic – Jalapenos – Cornstarch – Fresh Ginger – Cilantro
Ground Beef  – Onions – Sesame Oil – Ginger – Black Pepper – Garlic – Real Salt – Stevia Extract – Red Pepper Flakes – White Wine or Beef Broth – Cabbage – Carrots – Tamari
Coconut Oil – Broccoli – Onion – Real Salt – Black Pepper – Mushrooms – Chicken – Chicken Brother – Coconut Milk – Eggs – Nutmeg
Spaghetti Squash – Bacon – Broccoli – Coconut Milk – Egg – Real Salt – Garlic Powder – Black Pepper
Coconut Oil – Chicken Breast – Real Salt – White Pepper – Fresh Ginger – Cabbage – Broccoli – Carrot – Garlic – Fish Sauce – Coconut Aminos – Lime