I have 9 of the best ever Whole 30 breakfast recipes with eggs. Eggs are an integral part of breakfast and now you can have 9 different Whole 30 recipes for breakfast, all of which call for eggs. If you are on a Whole 30 lifestyle diet it can be hard to find recipes for breakfast. Well, I have 9 different ways to cook eggs and all of these recipes are Whole 30.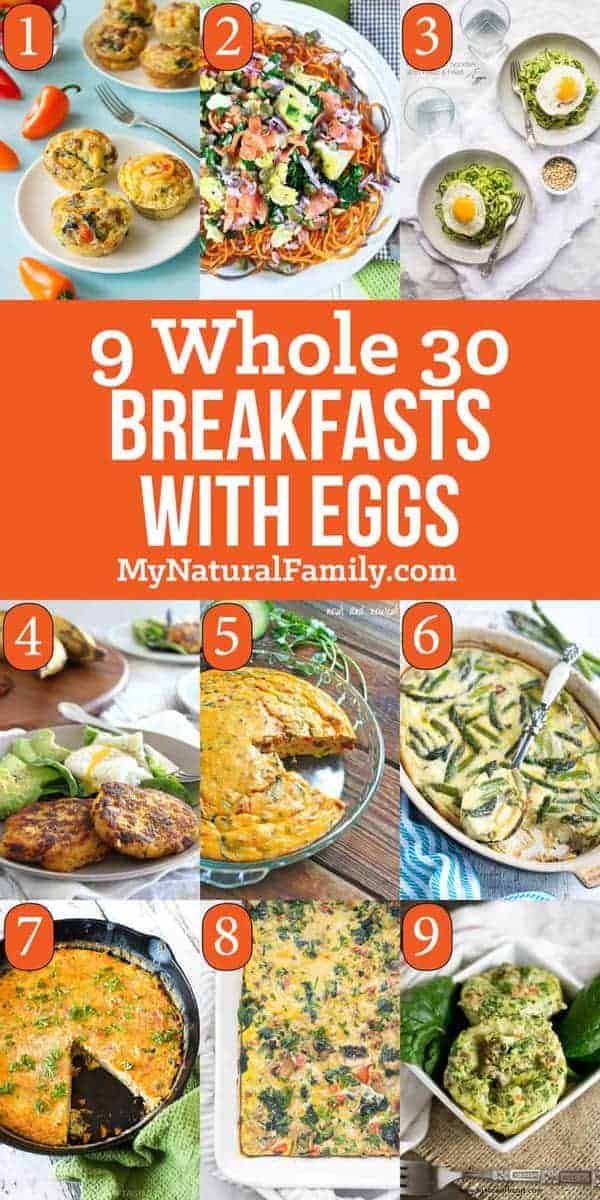 Yes, I know eggs aren't the only thing we can eat for breakfast. That's why I have a lot of other Whole30 breakfast recipes in other posts, you are definitely going to want to check them out too.
*Please note that most of the links on this page are affiliate links. This means if you click on a link and purchase, you will receive the same price, but I will receive a little money for referring you to the product. This helps keep this blog free for you. I truly appreciate you supporting my blog.
---
MY OTHER RECIPES
For now in this post, though it's all about eggs. Eggs are rather inexpensive, have a good amount of protein, they cook up quickly and also easily. That's why eggs are great for breakfast.
On the other hand eggs for breakfast, every day can get pretty boring. That's why I have 9 Whole30 breakfast recipes with eggs in them. You won't be bored with breakfast again with all of these recipes.
When you get tired of eggs for breakfast you might want to have a smoothie or a chia pudding bowl or a one-pan skillet breakfast dish plus I have many other options.
If you like these Whole 30 breakfast recipes with eggs, you may also like these recipes:
9 of the Best Ever Whole30 Breakfast Without Eggs Recipes
9 of The Best Whole 30 Crockpot Chicken Recipes for Any Meal
9 of the Best Ever Whole30 Chia Pudding Recipes
9 of the Best Ever Whole 30 Breakfast Casserole Recipes
Whole 30 Breakfast Recipes with Eggs
Breakfast Sausage – Onion – Peppers – Spinach – Eggs
These are pretty much little omelets to go that you can make any time and eat them when you need them. It doesn't take a long time to reheat them in the toaster oven for a few minutes. They are a low carb, high protein meal and can be eaten alone or with a green smoothie. My kids love these and since they as so healthy I let me eat them any time they want. Sometimes they eat them for lunch or snacks. Now that's what I call a healthy snack.
Sweet Potatoes – Coconut Oil – Pink Himalayan Salt – Black Pepper – Collard Leaves – Eggs – Nutmeg – Smoked Salmon – Capers – Red Onion
When you cook these sweet little potatoes you'll end up with some crispy "potato chips" and some sweet potatoes that are buttery soft. If you stir it around every once in a while that should take of that situation. The slightly chewy texture of the salmon and the creaminess of the eggs will make you want to eat these for the rest of your life. At least that's what the Healthy Foodie says.
Pine Nuts – Basil – Scallions – Garlic – Sea Salt – Olive Oil – Lime Juice – Zucchini – Ghee – Eggs – Black Pepper – Eggs
These zucchini noodles which some people call zoodles are mixed with a wonderful creamy pesto with fried eggs on the top. It's a light, easy, meatless, healthy meal that you can have any time of the day. It would be great for Breakfast, lunch or dinner.
Plantains – Bacon – Real Salt – Black Pepper – Eggs – Avocado – Greens
Plaintain bacon fritters are as easy as can be to make. Serve them with poached eggs and ripe avocado for a savory healthy breakfast. You just mash the plantains with a potato masher, throw in the other ingredients then stir it all up. Next, you mix it together and fry it up in some bacon fat leftover from cooking the bacon and you're good to go. Actually, I should say it's good to eat.
Cashews – Water – Greens – Red Onion – Lime – Olive Oil – Eggs – Bacon – Tomatoes – Green Chilies – Real Salt – Black Pepper
I would like to introduce you to BLT crustless quiche. Where most quiches are drowning in cheese, heavy cream and have a crust made with flour. These are totally different and yet totally good. This quiche is creamy because of the cashews. The bacon gives it a smoky flavor and the spring greens give it a big nutrient boost. It's way healthier than the old regular version.
Sweet Potato  – Asparagus – Olive Oil – Kosher Sea Salt – Eggs
As you can see from the short ingredient list this egg bake is pretty simple. It does take a little time roasting the sweet potatoes and asparagus but you can do other things while they are roasting. I would do it a little different than the recipe suggests. I'd roast the sweet potatoes and then put the asparagus in another pan and roast them at the same time for 10 minutes towards the end of the time the sweet potatoes are roasting. It would save some time. You'd just have another pan to wash. For me, that isn't a big deal with my dishwasher.
Coconut Oil – Carrots – Zucchini – Red Bell Pepper – Sausage – Eggs – Real Salt – Black Pepper
A frittata is a great way to have a healthy breakfast without any carbs including grains, sugar, and potatoes. That's what frittatas are anyway, right? Just eggs and a bunch of different vegetables. I haven't had a frittata for a long time. I'm going to have to start making more of them. This one is cooked in a cast iron skillet on the top of the stove and then put in the oven to broil for a few minutes. Frittatas are really popular. I found a lot of whole 30 breakfast recipes for frittatas. I chose the ones I like the best.
Ground Pork – Sage – Real Salt – Black Pepper – Marjoram – Red Pepper Flakes – Ground Cloves -Mushrooms – Olive Oil – Green Onions – Roma Tomatoes – Basil – Spinach – Eggs
This has a recipe for homemade sausage included and the ingredients are included in the list above. You have to be really careful buying sausage that doesn't have added sugar and fillers. That's why there are so many recipes for homemade Whole 30 sausage on the internet. If you don't want to make your own you should ask your butcher if he can make you some. But it really isn't hard at all. All you do is mix some spices with ground pork. There are also a lot of homemade sausage recipes made with ground chicken or even ground beef around. They are all very similar. I love how this has a lot of my favorite things in it like sausage, mushrooms, onions, spinach, tomatoes, and eggs. The mushrooms are what make it great, in my opinion.
Eggs – Onions – Jalapeno Pepper – Spinach – Real Salt – Red Bell Pepper – Orange Bell Pepper – Almond Milk – Coconut Flour – Sausage
Here is another egg muffin recipe. It's a little different than others I've seen. It has added sausage and almond milk with coconut flour to thicken it up. These little babies freeze up really well so you can reheat them another day and have a quick easy nutritious breakfast in seconds. When I make them I'm going to add mushrooms, yum. This makes a great Whole 30 Breakfast.
What is your favorite Whole 30 Breakfast?