Arrowroot powder is a wonderful discovery, I will tell you why it is so good to eat and cook with. Plus I have 9 Paleo arrowroot powder recipes. Learn all about arrowroot powder with my list of pros, cons and the best places to buy almond flour.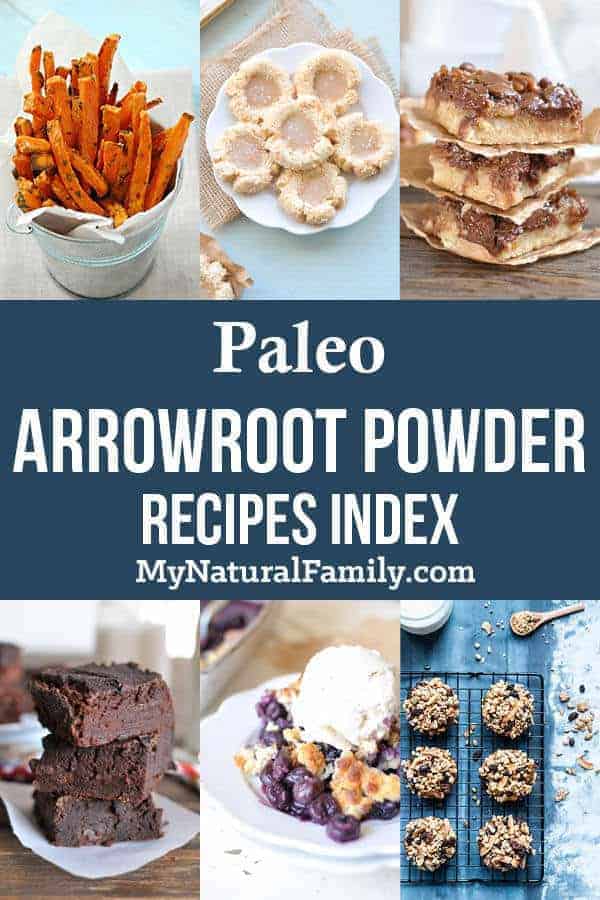 Overview
Arrowroot powder is usually used as a thickening agent in sauces or stew. It is also a good binder to use in meatloaf, burgers or meatballs. You generally use it the same as you would use cornstarch in "normal" cooking. Arrowroot starch, arrowroot powder, arrowroot flour or just plain arrowroot are the exact same thing – just different names. It is not good for just a binder though. It can be used to lighten the texture of many Paleo recipes like cookies, cakes and tortillas.
*Please note that most of the links on this page are affiliate links. This means if you click on a link and purchase, you will receive the same price, but I will receive a little money for referring you to the product. This helps keep this blog free for you. I truly appreciate you supporting my blog.
---
MY OTHER RECIPES
Pros
Did you know that arrowroot starch is good for you? It is much healthier than corn starch, which is not Paleo. Arrowroot has many health benefits:
It can improve your circulation.
The iron and copper in it are vital to red blood cells, which helps prevent weakness and fatigue which are symptoms of anemia.
It aids with digestion. It is a fiber which helps push food more efficiently through your system and allows nutrients to be absorbed.
It helps balance your pH. Calcium ash is the starch in arrowroot, which is compounds that bring balance between your alkali and acid.
It boosts your metabolism. The vitamin B regulates your metabolic processes and optimizes your enzyme function.
Did you know that it contains more protein than any other starches?
It can lower your cholesterol. It increases bile production, which helps your gallbladder get the cholesterol out of your system.
Folate is a B vitamin which is amply supplied in arrowroot.
It is also healthy for your heart. It contains high amounts of potassium which help soften your arteries and blood vessels.
The best of thing about it for Paleo lovers is that is contains no gluten and is much higher in protein than other flours and starches.
Has more thickening power than corn starch or flour so less is needed
It also has almost no flavor of its own
It has a more clear or watery look, corn starch looks more white or adds a creamy color.
Cons
More expensive
It should only be added to hot liquids;  Make a slurry with a little bit of ingredients you're using, before adding it to the sauce.
It should NEVER be boiled because it will lose its thickening abilities
When used with dairy, arrowroot starch develops a sticky quality which can come across as slimy
Arrowroot Powder Brand and Cost Comparison
Bob's Red Mill - Thrive Market
Anthony's - Amazon
9 Paleo Arrowroot Powder Recipes
Now that I hopefully have you convinced of the virtues of arrowroot am I providing you with 9 great Paleo recipes that you can try it out on. I think you're going to be pleasantly surprised how good they taste. I think you will want to use some of these again and again because I'm sure you're going to fall in love with them, just as I have.
When you can add the arrowroot starch toward the end of cooking so that the mixture isn't broken down by the heat and the nutrient value of the arrowroot isn't diminished.