This is an index of all the Clean Eating recipes I have on my blog plus several of my favorites from other bloggers. What is a Clean Eating diet? Basically, they are from scratch, or as close to nature as possible. This would include organic foods whenever possible, healthy fats, and choosing whole grains instead of processed or refined foods.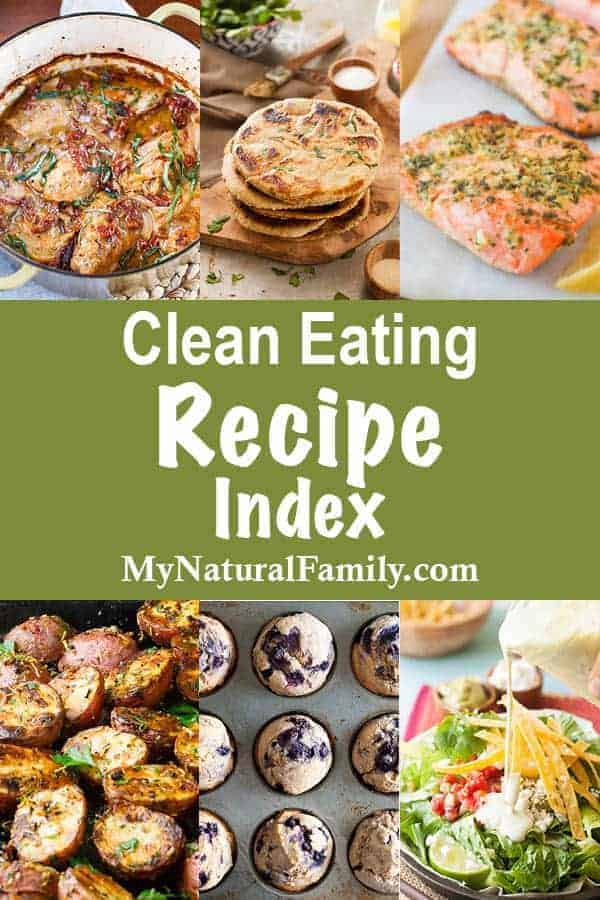 Clean Eating Recipes Quick Links
My Most Popular Clean Eating Recipes
This chicken takes about 10 minutes to get started and then you have an hour or so to do whatever you want while your dinner bakes. This recipe has tons of positive reviews and lots of ideas for substitutions and variations in the post and comments so you can customize it to your liking. Watch this video to see how easy it is to make:
This is crazy-easy to bake in the oven – it only takes about 12 minutes! It ends up with a nice crust on the outside and is tender on the inside. I love the easy sauce and it pulls together in a few minutes. This is one of my favorite recipes to impress guests with because I can have it all ready to go and then pop it in at the last minute. I like to serve it with my baguettes.
My Family's Story of Eating Clean
My name is Rebecca and I created this blog to share my favorite recipes with my family and friends. And, yes, I consider you my friend because you're taking the time today to visit and hopefully try one of my recipes. I am a wife and mother to four children. We didn't always eat Clean.
When my two youngest were little we more or less ate like most Americans. We thought we were eating pretty healthy. But looking back – we weren't. Well, we tried. Sometimes. It's hard though when life is so busy. But then we found out several of us had food allergies. In the end, we found that the Clean Eating diet worked well for us. We felt a lot better.
We've all had moments of wanting to go back, but we never feel good when we cheat. It's harder for our two older children who know what they are missing. But our two youngest children barely even know what they are missing.
My youngest said to me the other day, "I'd like to go to that fast food restaurant someday" and I was like "why?" and she said, "just so I know what it tastes like cause my friend eats there" and I told her she sure wasn't missing out. Food made from scratch tastes so much better. (BTW, proud mom moment that she has never eaten there)
I love it when someone will ask if one of my children wants something like chips, a certain candy bar or some other packaged food and they have no idea what the person is talking about. Or when we go to a restaurant that serves obviously reheated frozen food and they barely eat it – but then when we go to a Thai, Indian, BBQ or another relatively healthy restaurant, they love the food.
And don't even get me started on how much better they act when they eat healthy food. Is it hard to eat Clean? Sure. I mean, it's harder than non-diet restrictions, but I think you will find the diet to be much easier than many other diets out there. I mean, sure you can't eat cotton candy, corn dogs and soda. But let me tell you – it's so worth the effort. You will feel so much better in the long run and after a while, you won't even want that junk and if you decide to cheat you'll realize that crap doesn't taste nearly as good as real food.
Do we always eat perfectly Clean? Heck, no. See, there's this thing called life. But we sure try and we always feel better when we eat Clean. I do have to warn you though, there's no going back. Once you get used to real food, if you get tempted and try fake food, you'll think it tastes gross. Really. After a while, you won't even want processed food.
You Can Do It Too
You may be surprised at how much better you feel and how the Clean Eating diet really isn't very restrictive! I think it's less about what you can't eat and more about replacing less healthy foods with more healthy foods. To me, it's about eating like how they did in the "olden" days, like Little House on the Prairie.
Back then, they didn't eat out of boxes and cans and they didn't add a bunch of crap to their food. They just went out and milked their cow and drank it and let their cows and chickens eat from the pastures. Back then they didn't have to talk about things like grass-fed beef and cage-free chickens. That's all there was. So I think of the Clean Eating diet as getting back to our roots, which really makes you feel better inside and out.
So that leads us to these Clean Eating recipes. You will find that they tend to use simple ingredients and are generally simple to prepare and they really do taste good. They fit into the whole farm to table movement that is becoming more popular right now.
So take some time to look around my blog and try some of my recipes or those of other bloggers and please comment and let me know if there are any recipes you would like me to add or if you have any questions about certain recipes or the Clean Eating diet in general.
Clean Eating Recipes from Other Bloggers Pinned Over 50,000 Times Each!
Chicken Clean Eating Recipes
Chicken Breasts {*} – Tortillas – Pineapple – Tomato – Red Onion – Jalapeno – Lime Juice – Cilantro – Use this Clean Eating Tortillas Recipe
Chicken Breast – Onion – Tomatoes  – Heavy Cream – Whole Grain Penne – Ricotta Cheese – Mozzarella Cheese – Shredded Parmesan – Fresh Basil Leaves
Spinach – Onion – Green Onions – Ground Chicken – Shredded Cheddar Cheese
Italian Salad Dressing – Honey – Chicken Tenderloins – Fresh Asparagus – Match Stick Carrots – Grape Tomatoes
Chicken Breasts – Provolone Cheese  – Baby Spinach – Olive Oil
Zucchini – Chicken Breasts – Jalapeno Pepper – Lime – Cilantro
Chicken Breasts – Butter – Chicken Broth – Lemon Juice – Honey – Garlic
Honey – Mustard – Dijon Mustard – Garlic – Boneless Chicken Thighs – Bacon – Romaine Lettuce – Grape Tomatoes – Avocado – Corn Kernels – Red Onion
Avocado – Sour Cream – Lime Juice – Fresh Cilantro – Red Onion – Chicken Breasts – Lettuce Leaves
Coconut Milk – Thai Curry Paste – Soy Sauce – Fish Sauce – Chicken Thighs – Squash – Onion – Chili Peppers – Kale
Chicken Breasts – Tomatoes – Chicken Stock  – Black Beans – Tomatoes – Corn – Onion – Jalapeno – Limes – Corn Tortilla Strips
Onion – Coconut Milk – Tomato Paste – Chicken Breasts – Cilantro
Chicken Breasts – Salsa – Chicken Broth – Black Beans – Corn – Lemon Juice
Chicken Breasts  – Bell Peppers – Jalapeno Pepper – Corn – Black Beans – Kidney Beans – Onion – Tomatoes – Salsa – Limes – Refried Beans
Chicken Breasts – Onion – Carrots – Celery – Whole Wheat Flour – Milk
Whole Chicken – Onions or Vegetables
Chicken Breasts – Tomatoes – Bell Peppers – Onion
Chicken Breasts – Onion – Zucchini – Bell Pepper – Pasta Sauce – Cheese
Chicken Thighs – Red Potatoes – Carrots – Green Beans – Parsley – Soy Sauce – Ketchup
Chicken Breasts – Pinto Beans – Black Beans – Tomatoes – Corn – Salsa
Dinner (Non-Chicken)
Spaghetti Squash – Large Shrimp – Olive Oil – Butter – Garlic – Lemon – Dry White Wine – Dijon Mustard – Greek Yogurt – Red Pepper Flakes
Shrimp – Yellow, Red and Orange Bell Peppers – Red Onion – Use my Clean Eating Tortillas Recipe
Asparagus – Uncooked Shrimp – Olive Oil – Garlic – Red Pepper Flakes – Fresh Parsley – Lemon Juice – Butter
Olive Oil – Garlic – Jalapeno – Quinoa – Vegetable Broth – Black Beans – Fire-Roasted Tomatoes – Corn Kernels – Avocado – Lime –  Cilantro
Carrots – Red Onion – Freeze Dried Cilantro – Lime – Coconut Aminos – Red Chili Flakes – Ground Chicken – Coconut Milk – Red Curry Paste – Almond Butter
Shrimp – Garlic – Red Pepper Flakes – Chicken Stock – Lemon – Zucchini – Grated Parmesan – Parsley Leaves
Shrimp – Garlic – Tomato – Yellow Summer Squash – Jalapeno – Red Onion – Parmesan Crumbles – Almond Flour – Cream – Eggs
Cauliflower – Garlic – Milk – Broth – Canned White Beans – Cornmeal – Shredded Cheese – Kale – Bacon Fat – Shrimp
Side Dishes
Brown Rice – Red Cabbage – Broccoli – Red Bell Pepper – Zucchini – Olive Oil – Garlic – Fresh Parsley – Cayenne Powder – Soy Sauce
Onion – Carrots – Celery – Garlic – Chicken Broth – Diced Tomatoes  – Potatoes – Fresh Parsley – Bay Leaves – Peas
Cauliflower – Egg Whites – Mozzarella Cheese – Italian Seasoning – Clean Classic Marinara Sauce
Whole Wheat Pasta – Garlic – Olive Oil – Tomatoes – Spinach Leaves – Fresh Basil – Parmesan Cheese – Ricotta Cheese
Sweet Potatoes – Olive Oil – Garlic – Butter – Grated Parmesan Cheese – Italian Seasoning – Dried Parsley
Black Beans – Garbanzo Beans – Tomatoes – Canned Corn – Green Chilies – Red Onion – Green Bell Pepper – Jalapeno Pepper – Fresh Cilantro – Limes – Avocado
Sweet Potatoes – Broccoli – Olive Oil – Lots of Delicious Spices
Dutch Yellow Potatoes – Olive Oil – Butter – Garlic – Oregano – Basil – Dill – Grated Parmesan – Fresh Parsley Leaves
Yellow Potatoes – Butternut Squash – Carrots – Garlic – Zucchini – Orange Bell Peppers – Cheese – Oil of Choice
Desserts
Bananas – Pumpkin Puree – Maple Syrup – Pumpkin Spice
Peanut Butter – Honey – Coconut Oil – Old Fashioned Oats – Shredded Coconut – Chopped Nuts, Raisins or Craisins – Dark Chocolate Chips
Almond Butter – Coconut Oil – Liquid Stevia to make them Clean – Maple Extract
Bananas – Peanut Butter – Cocoa Powder
Strawberries – Almond Milk – Sweetener of Your Choice – Lemon Juice – Salt
Apple – Peanut Butter – Almonds – Walnuts – Shredded Coconut – Chocolate Chips
whole wheat flour – carrots – agave – maple syrup – Greek yogurt – milk – ricotta cheese<
Peanut Butter – Maple Syrup – Old Fashioned Oats – Dark Chocolate Chips  – Eggs
Clean Eating Recipes Index
Bread
Flour
Breakfast
Slow Cooker
Desserts
Dinner
Side Dishes
Lunch
Snacks