What is a Clean Eating diet? Basically, they are from scratch, or as close to nature as possible. This would include organic foods whenever possible, healthy fats, and choosing whole grains instead of processed or refined foods. If you haven't already tried some Clean Eating recipes, you should give it a try!

You may be surprised at how much better you feel and how the Clean Eating diet really isn't very restrictive! I think it's less about what you can't eat and more about replacing less healthy foods with more healthy foods. To me, it's about eating like how they did in the "olden" days, like Little House on the Prairie.
*Please note that most of the links on this page are affiliate links. This means if you click on a link and purchase, you will receive the same price, but I will receive a little money for referring you to the product. This helps keep this blog free for you. I truly appreciate you supporting my blog.
---
MY OTHER RECIPES
Back then, they didn't eat out of boxes and cans and they didn't add a bunch of crap to their food. They just went out and milked their cow and drank it and let their cows and chickens eat from the pastures. Back then they didn't have to talk about things like grass-fed beef and cage-free chickens.
That's all there was. So I think of the Clean Eating diet as getting back to our roots, which really makes you feel better inside and out.
So that leads us to these Clean Eating recipes. You will find that they tend to use simple ingredients and are generally simple to prepare and they really do taste good. They fit into the whole farm to table movement that is becoming more popular right now.
Take a look at these options… Mmmmm… They look tasty!
I have tons of clean eating lunch ideas and clean eating recipes for kids lunch boxes. Just what you need to get your kids to eat lunch at school. Kids are so much fun to have around during the summer – but it's getting close to time for school to start. All those wonderful summer vacations, road trips and warm summer night parties are over. 🙁 It's time to start thinking about what to do about school lunches. I have a lot of suggestions for Clean Eating lunch ideas and recipes. I tried to include ideas that are not too…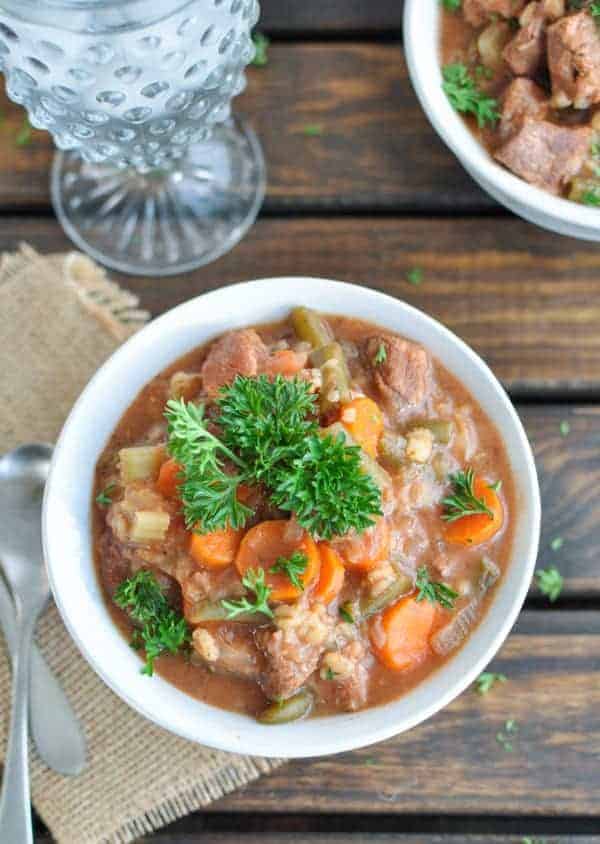 This slow cooker beef and barley stew is so easy to throw all the ingredients in the morning and forget about it the rest of the day and have your entire healthy, comforting meal in one bowl! {Clean Eating, Dairy-Free} If your family is anything like mine, then there is no way you could get away with making salads for dinner every night – although I might if I could.  My husband and kids would simply not allow it – they would revolt against me. Since I can't have salads every night, putting together a dinner menu can sometimes feel…
Slow Cooker Beef and Barley Stew Recipe for a Healthy, Comforting MealRead More