Here are 9 Paleo ground turkey recipes you'll want to eat! You have to admit – it's hard to find true Paleo ground turkey recipes that taste good or look appetizing enough to make me want to even try the recipe.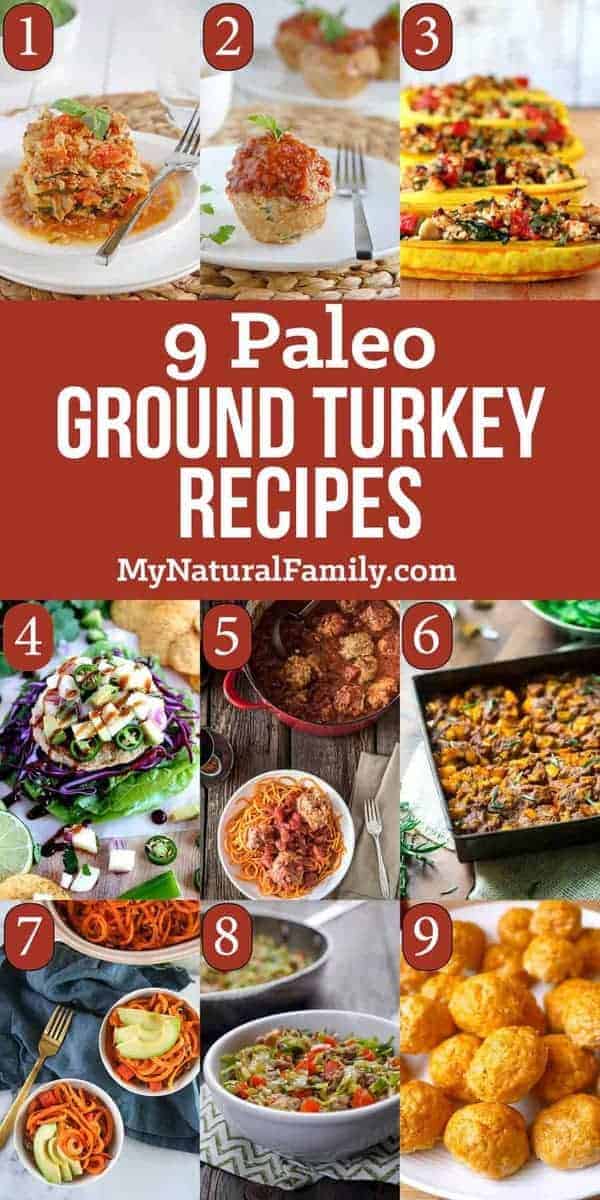 I've decided that the reason ground turkey doesn't look appetizing to me is because of the color. It is such a light color that especially if it doesn't have many other ingredients added to it, which makes me not even want to look at it.
*Please note that most of the links on this page are affiliate links. This means if you click on a link and purchase, you will receive the same price, but I will receive a little money for referring you to the product. This helps keep this blog free for you. I truly appreciate you supporting my blog.
---
MY OTHER RECIPES
Having said that I want to say that I have found 9 Paleo ground turkey recipes that look good and appetizing that I am willing to try at least once and ultimately hopefully add some of them to my archive of recipes to use for my family. We are always trying to find new and healthy recipes to add to our list to keep it fresh and enjoyable.
I found several Paleo ground turkey recipes that I want to try so I'm sure you will too. Let me know which are your favorites.
If you like these Paleo ground turkey recipes, you may also like these recipes:
9 Paleo Ground Beef Recipes for Quick, Inexpensive Meals
9 of the Best Ever Paleo Chicken Slow Cooker Recipes
Paleo Dinner Recipes Index – You Always Need More
Best Paleo Recipes Pinned Over Half a Million Times!!!!
Paleo Ground Turkey Recipes
Tomatoes – Onion – Ground Turkey – Summer Squash – Coconut Milk – Zucchini – Egg
My sister absolutely loves lasagna so I developed this Paleo lasagna for her which just happens to also be gluten-free. It's just like regular lasagna but zucchini replaces the noodles and it has coconut milk instead of cheese. I think I actually like it better without the noodles. Then I realized that's probably because the zucchini makes it nice and moist and best of all it doesn't make me sick. Win-Win!
Tomatoes  – Tomato Paste – Onion – Carrots – Mushrooms – Zucchini – Ground Turkey – Ground Pork – Tomato Sauce – Coconut Milk – Coconut Flour – Eggs
I really like the flavors I get with the combination of ground pork and ground turkey rather than using ground beef. It's a really nice flavor. I get tired of ground beef all the time plus it's a good idea to eat a variety of foods nutritionally. These meatball muffins are great for family dinner or parties. They can be made ahead of time and heated up. That's a good thing for parties or when you need a quick healthy meal. I think they are good for practically any time of the day. I like how they are made in muffins pans which makes them in uniform shapes. Plus it is a good way to get portion control if that's important to you. They are great for snacks, lunch or even breakfast. Such a great idea!
Squash – Ground Turkey – Onion – Tomatoes – Spinach – Garlic – Real Salt
This is a recipe for a super simple meal, it is literally a squash cut in half with cooked ground turkey and some veggies mixed together inside the squash and then roasted in the oven. The squash creates a nice container for the mixture to roast in and this recipe is packed full of good nutrition.
Ground Turkey – Zucchini – Red Onion – Pineapple Juice – Coconut Flour – Garlic – Ginger – Maple Syrup – Coconut Aminos
Next, we have a delicious juicy turkey burger packed with veggies and a delicious BBQ sauce. I think sometimes we automatically assume that a hamburger is a forbidden food because of the sauces, cheese, and bun. This is s shame because burgers are delicious and are a very versatile meal beyond the stereotypical fast food burger. This burger has an Asian style flavor that you might enjoy trying and is definitely a smart choice for a meal.
Onion – Carrots – Ground Turkey – Almond Flour – Eggs – Tomatoes – Lard – Garlic – Oregano – Real Salt – Fresh Sage
Here is a recipe for classic meatballs in tomato sauce. The recipe is packed full of vegetable and yummy spices and herbs. If your family is hesitant about healthier meals and just want what they want this could be a good recipe for everyone. The "healthy" ingredients are hidden or more subtle and while you put it over sweet potato noodles you could always easily cook some traditional noodles for those who prefer that. This flexibility of this meal is nice for a family to avoid having to make three different meals for dinner cause I know that happens at our house far too often.
Ground Turkey – Onion – Tomato Paste – Zucchini – Tomato – Orange Bell Pepper – Almond Milk – Garlic – Cumin – Cardamom – Oregano – Chili Powder – Tarragon – Olive Oil – Almond Meal – Coconut Flour
This is a casserole meal with ground turkey, lots of vegetables. Basically, all the ingredients are combined into one pan and then cooked in the oven and are simple to put together. This meal could be prepared the evening before or the morning of the day you would eat it and then cooked when you are ready for it or even a good option for a freezer meal?
Ground Turkey – Carrots – Parships – Red Onion – Bell Peppers – Tomatoes – Spinach – Sweet Potatoes – Garlic – Ghee – Real Salt – Cumin – Chili Powder – Smoked Paprika – Onion Powder – Cayenne Pepper – Oregano
One of my favorite meals ever is tacos, I make tacos a frequent basis but it can be hard to keep it within my dietary needs. This taco casserole looks like a good option for that, all the ingredients I love and friendly to my lifestyle. It also helps that it looks simple to prepare and cook.
Onion – Ground Turkey – Brussels Sprouts – Coconut Oil – Garlic – Chili Powder – Real Salt – Cayenne – Bell Pepper
I have always been hesitant to eat brussels sprouts but then I found a pre-shredded bag at one of my favorite stores and roasted them. Ever since then I have loved eating them and will include them whenever I can. I have added this recipe to my archive to use on a regular basis. This is a simple meal of veggies and ground turkey cooked in a skillet together. It is nutritious and delicious!
Ground Turkey – Almond Flour – Hot Sauce – Egg – Real Salt – Garlic Powder – Onion Powder – Chili Powder
This is a simple meatball recipe with almond flour and ground turkey with an egg added to hold it together and some spices for flavor. These meatballs can be used in multiple dishes or just by themselves with one of your favorite sauces.