These are the Best Paleo Side Dishes including Vegetables, Fruits & Salads. They will all go so well with any of your favorite Paleo main dish recipes. You know I think my favorite part of all of my meals is the side dishes. I love my main dishes too but the side dishes are what make my meal more interesting and tastier in my opinion. I really do love vegetables and fruits and bread and so on.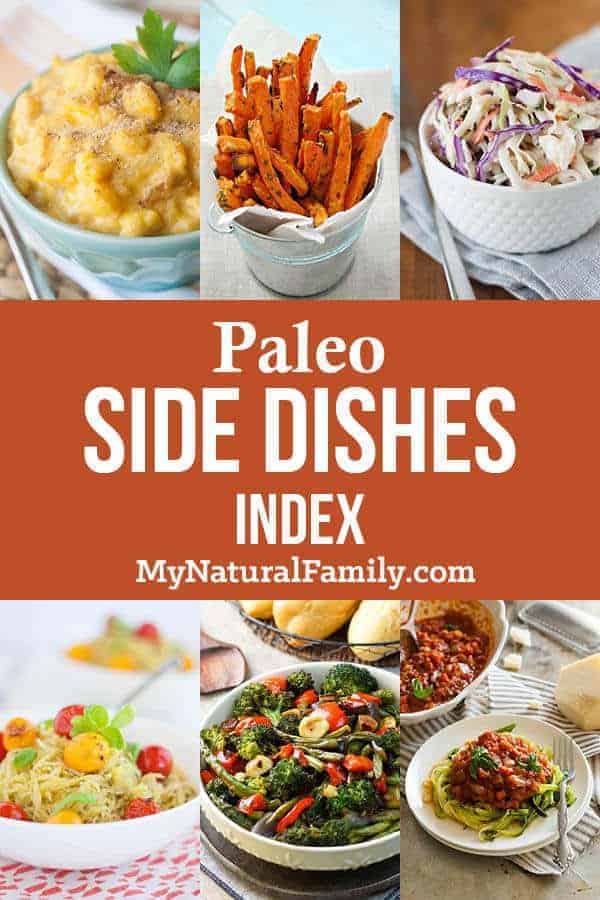 I mean who can live without their fries, salads, fruits, and veggies? I sure can't! What are your favorite side dishes? Do you prefer vegetables or fruits or salads? My favorite side dish is roasted vegetables of any kind. I love roasted crookneck squash the most I think. But I also love green beans, broccoli, and asparagus roasted. I roast my potatoes into fries. It's the only way I like fries now. Fries from fast food places don't even interest me anymore.
I have some great paleo recipes here for side dishes. You better check them all out. I don't think you will be lacking in ideas for great Paleo side dishes anymore!
What are some reader's favorite Paleo side dishes?
In our Paleo Facebook group someone asked what everyone's favorite sides are and here are some of the ideas people gave:
Bittany B. – I LOOOVE sweet potato fries! I do olive oil with paprika, salt and garlic powder
Nahita J. – I love aubergine/eggplant on the side!
Judy C. – Zucchini or yellow squash slow cooked in butter, sprinkled with tarragon; put cauliflower in a food processor and pulse till it's small pieces. slowly cook in a little bit of oil, salt & pepper till soft; roasted roma tomatoes mixed with spiralized zucchini: heat the tomatoes first, turn off heat and add zucchini, let sit for 5-10 minutes then eat.
Jennifer L. – Brussels sprouts with bacon.
Terry S. – Roasted Veggies. Carrots,Cauliflower, Brussel Sprouts,Beets…any combo toss in Avacado Oil salt pepper put in shallow roasting pan 375 for about 45 minutes..about every 15 minutes retoss.
LaFemme A. – Sautéed diced mushrooms (not shiitake unless pre-soaked until soft – too chewy) with diced spinach in olive oil, sprinkled sesame seeds to be mixed in ~ This cooks quickly even on low heat, and veggies can be washed and placed in a ziplock bag for easy dicing on way of ~ Can also add or sub grape or plum tomatoes for mushrooms ~
Barbara W. – roasted butternut squash, try delicata squash, it is delicious and you can eat the peel. turnips are amazing I boil them a bit and finish cooking in ghee . . .
Rebecca N. – Crumbled garlic mushrooms
Amy K. – mashed sweet potatoes, baked sweet potatoes, sauteed squash and apples and bacon is one of our favorites.
Tom J. – save bacon grease when you cook it. Pan fry fresh zucchini and garlic in a tablespoon of it.. BAM!
Kathleen P. – Oven roasted butternut squash with garlic and favorite spices
Robyn F. – Make coleslaw. 2 cups is about 6-7 grams of carbs. Mayo, celery seed and cider vinegar.
Shelley B. – Broccoli soup! Steam broccoli then add to blender with butter or ghee, bone broth, herbs / spices, a little acv and water (add until you get the consistency you want)
JoJo B. – We do olive oil and garlic powder and pink salt and toss the veggies.
Beth H. – I don't bother with a veggie side dish, instead I just chop up fruits and veggies and put them in a huge salad. So just a grilled meat and a giant salad, easy peasy and super healthy.
Khomson T. – Sweet potato and celery root 'fries'.
Donna S. – I'm from the South and could have greens at every meal. That's how l get my "iums". Calcium, magnesium, potassium, etc. Also, they're loaded with iron.
Blake C. – Plain is never good for more than a snack. I LOVE perusing the produce department for new stuff. Tonight I made lemon asparagus with salt and pepper, plus turmeric fried bok choy to go with my veal. Super tasty. Also try steaming broccoli and tossing with sesame oil and sesame seeds– it's a favorite of mine.
Marta G. – Some of my faves are: Green bean or asparagus, steamed to crunchy, tossed with ghee garlic, S & P and lemon zest. Fresh or frozen spinach in a pan with EVO, S&P, garlic, bacon bits pine nuts. Roasted mix veg, zucchini chunks, bunch of (or small) tomatoes, quartered fennel & capsicum (seeds removed), whole garlic cloves, toss in EVO & sprinkle S&P & chopped fresh or dried herbs – roast until just cooked through.
Faitmah J. – Curried sweet potatoe stew…its a little, savory and spicy!
Between the different posts, you'll find such a yummy variety of Paleo side dishes! I really think you will be pleased! Let us know which are your favorites and you are excited to try.
Paleo Side Dishes from Bloggers
Bacon – Cauliflower – Butternut Squash – Garlic – Celery – Chicken Broth – Fresh Sage – Scallions
This is an extra creamy squash soup with bacon and cauliflower. The cauliflower is pan roasted which adds a warm savory element to this soup. Well you know what the bacon does, adds a ton of delicious goodness.
Spaghetti Squash – Coconut Aminos – Garlic – Coconut Sugar – Fresh Ginger – Onion – Celery – Cole Slaw Mix
Spaghetti squash is a really good substitute for pasta and I think it reminds me enough of the real thing that I'm satisfied. This tastes almost like real chow mein but without the noodles. Make up a batch and try it out, I don't think you'll be disappointed.
Spaghetti Squash – Eggplant – Onion – Garlic – Red Bell Pepper – Diced Tomatoes – Red Chili Flakes – Red Wine – Capers – Olives
This eggplant is sauteed with garlic and onion, then simmered with red wine and tomatoes, then cooked down a bit. The olives and capers give it flavor and depth while the chili flakes give it just the perfect amount of heat.
WOW! Yes, this is an index of recipes of the best Paleo vegetables. There are so many different kinds of vegetables and I have recipes for a whole lot of them. All of these Paleo Vegetables would make great side dishes for your favorite Paleo dinner tonight or tomorrow night. Tips to Eat More Veggies I have a few questions for you: How many veggies are you eating per day? Do you have to think about it? How about I ask you this: What vegetables did you eat YESTERDAY? Do you completely skip over the produce section at the grocery store? If your answers include: "None,…
Paleo Vegetables Recipes Index + Tips to Eat More VeggiesRead More
I have 9 of the best homemade Paleo sauces you will ever find. The sauce is the boss! And, a good Paleo sauce can make a great meal 🙂 Whether you're dipping or smothering or covering, we have a great sauce for you! If you've recently switched over to a paleo lifestyle, you know that finding good substitutes for the meals you used to eat can be challenging. For me, noodles are something I miss – but I'm finding I really like squash or zucchini "noodles" with my favorite marinara sauce. What do you miss on a paleo diet? Is it pesto,…
Ok, I have to tell you that for a Paleo mac and cheese, I'm pretty excited about how this 'cheese' sauce turned out. It tastes like the real thing!  Here is a summary of the steps of this "Paleo mac and cheese" Recipe: Step #1 Steam cauliflower using your favorite method. I love to use my Instant Pot to cook mine. If you don't want to make Paleo mac and cheese, get your base ready, whether it be noodles or something else. Step #2 Cook the veggies and coconut milk in a saucepan Step #3 Blend the sauce and pour it over the…
Paleo Mac and Cheese Recipe {Clean Eating, Gluten-Free, Keto}Read More