I have Paleo crock pot recipes for pretty much anything that can be cooked in a crockpot. I pretty much think that crock pots are one of the best inventions when it comes to cooking!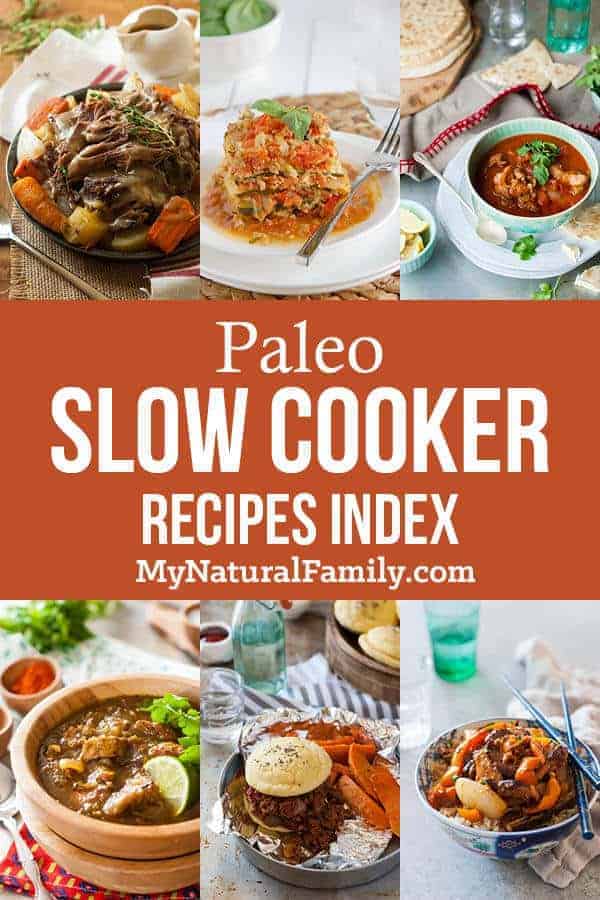 I would not survive making healthy, yummy meals without a crock pot. It is a little bit hard to find Paleo crock pot recipes – but have no fear! I have compiled a list of recipes that will make your life much happier and simpler!
*Please note that most of the links on this page are affiliate links. This means if you click on a link and purchase, you will receive the same price, but I will receive a little money for referring you to the product. This helps keep this blog free for you. I truly appreciate you supporting my blog.
---
MY OTHER RECIPES
If you see a recipe you like, you may either click on the title or the image and it will bring you to the recipe. I add more and more recipes all the time. So come back often and look for new ones besides finding the old one. You may think I'm crazy, but I actually own three crock pots.
The main reason I have so many is so I can make bone broth in one all the time, one for the main dish and one for the side dish. Plus, I come from a large family and it's nice to have a few extras around for family parties or to loan to family and friends.
I love using my slow cooker because it is so easy to put all of the ingredients for a whole meal in one pot. Then I can come back to it a few hours later and it is all cooked and ready to eat. I think slow cookers are wonderful. I don't know how my grandmother ever lived without one. Oh wait, I do know, she spent the bigger part of her day in the kitchen cooking meals. My grandmother really could have used a crock pot.
Paleo Crock Pot Recipes from Other Bloggers
Coconut Milk – Turkey Breast – Broth – Butternut Squash – Green Beans – Red Bell Pepper – Onion – Curry Paste  – Fresh Ginger – Lime
This soup is what some peoples dreams are made of. I say that because it's low carb, low calorie, high protein and delicious. It can easily be made with turkey leftovers. That way the turkey is already cooked and you won't have to cook the soup for as long as if you used raw turkey. It's high in protein and full of healthy hearty vegetables and full of flavors.
Tomatoes – Red, Yellow and Green Bell Peppers – Zucchini  – Yellow Squash – Eggplant – Onion – Olive Oil – Garlic – Fresh Basil – Fresh Parsley – Real Salt
My mother lived a sheltered life apparently. She had never heard of ratatouille until the Pixar movie came out. Well, she knows what it is now. You don't need to add broth for the soup because during the cooking process the vegetables release plenty of water. With all of these vegetables, this makes a lot of soup. Which makes it budget friendly. It can easily be stored in the freezer in serving sized containers for an easy meal on those busy days. You could also add some chicken if you want some meat protein. I think it would be delicious.
Olive Oil – Garlic – Onion – Shallots – Ground Beef – Parsley – Oregano – Real Salt – Cauliflower – Broth – Cabbage – Marinara Sauce
There is a link on the blog for a homemade marinara sauce recipe. If you don't want to bother with making your own marinara sauce you could buy this Wellbee's Marinara Sauce – Paleo & SCD Approved on Amazon. This is a very low carb meal. If you don't think you're a cabbage fan, you should try this, you might change your mind. You could also make this in a pot on the stove. It's a hearty meal for everyone in your family.
Coconut Oil – Onion – Garlic – Pork Loin – Oregano – Dry Mustard – Nutmeg – Bone Broth – White Wine Vinegar – Oyster Mushrooms – Coconut Milk – Ghee – Capers
If you want to know how to make homemade bone broth, The Healthy Foodie blog has a link to a recipe for it. I enjoyed reading her story about her first time making and eating it. For this you sear the pork first, she also gives specific instructions on how to do that. This is really an interesting stew. You have to be a mushroom lover to love this. Basically, all it is, is mushrooms, pork, and flavorings like spices and capers and onions. I haven't been brave enough to try this yet. Let me know if you try it. It sure does look good though.
Sweet Potatoes – Chicken Breasts – Onions – Kale – Garlic – Coconut Milk – Chicken Broth – Curry Paste – Ginger – Green Onion – Sriracha
This is made with yellow sweet potatoes, that's why it doesn't look like sweet potatoes. Some people say yellow sweet potatoes are softer and sweeter than orange ones. But where's the kale? It's in there, it just isn't so much that it makes it look very green. This is rich, warm creamy comforting curry soup. It's easy to make in your slow cooker and it takes NO prep time. How can that be? Just throw everything in the pot and turn it on. You should probably wash those veggies first though. Ari says no prep time, I don't think I believe that. I wonder what her definition of prep time is.
Slow Cooker
If you are in the market for a slow cooker, I recommend this basic one on Amazon. I've found that electronic ones or ones with fancy features aren't necessary.
But really, if you are in the market for a slow cooker, you really should consider getting an Instant Pot instead. Instant Pots have a slow cooker feature, but they also do a lot more - so they save you a lot of space, time and money in the long run.
I have two pressure cookers and I love them. They have 7 functions but the main ones I use are pressure cooker,
crock pot
and rice cooker. It really does all those things and more. It cooks rice in only 10 minutes, steamed cauliflower in 10 and things like soup in 20-30 minutes and it tastes like it's been cooking in the crock pot all day - but it's more moist than a crock pot and way faster AND if you are forgetful like me, you don't have to remember to start it in the morning.
I make all my crock pot recipes in it now and it is way faster and my favorite recipes taste just as good, if not better. You can make almost any crock pot recipe into a pressure cooker recipe and it only takes about 30 minutes or less and tastes really good. Plus, they are easy to use and not dangerous like the stovetop kind. This is the pressure cooker I bought - you have got to get one and try it (or shop around and get one with more functions or bluetooth!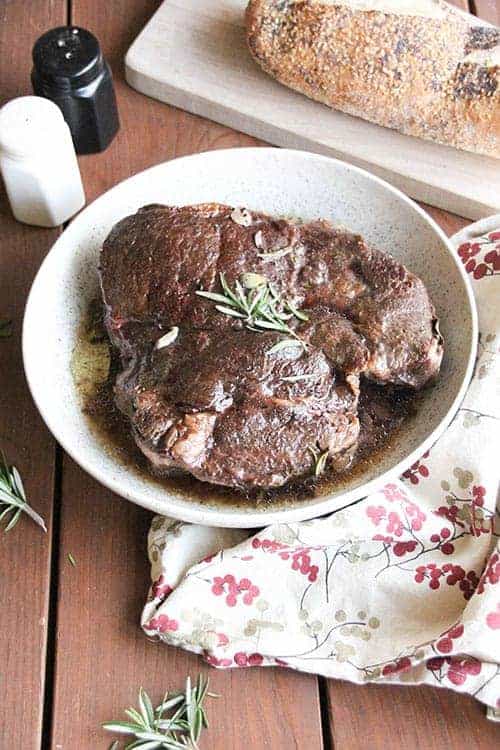 This Paleo balsamic pot roast recipe is one of our family's favorite meals and is one of the few meals that everyone in the family really likes and asks for consistently and that everyone in our family can eat. With all the dietary restrictions and pickiness in our family that is saying A LOT! This Paleo balsamic pot roast is also one of the top five meals I bring to family gatherings year-round and it disappears super fast. I love the combination of tangy sweetness and how the roast absorbs the balsamic vinegar sauce. Oh, that sauce! It's so good!…
Paleo Balsamic Pot Roast Recipe {Gluten-Free, Clean Eating, Dairy-Free}Read More