These are quick and easy egg muffins that are so convenient, packed with flavor, veggies, and meat and taste great. They are jam-packed with flavor and come together relatively quick. They are full of color, texture, and healthy ingredients including sausage, spinach, and peppers.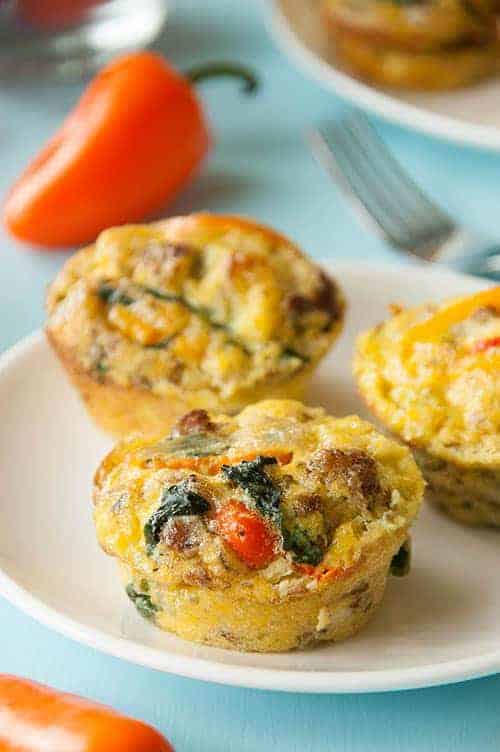 These Paleo breakfast egg muffins are a high protein and low carb meal and can be eaten alone or served with a green smoothie (which is my favorite way to eat them).  I think the best part about them is you can make them fresh or you can make them ahead of time and heat them up for when you or other family members are rushing out the door.
*Please note that most of the links on this page are affiliate links. This means if you click on a link and purchase, you will receive the same price, but I will receive a little money for referring you to the product. This helps keep this blog free for you. I truly appreciate you supporting my blog.
---
MY OTHER RECIPES
My 10-year-old son loves these, although he usually doesn't want the veggies. I make them the night before and he eats them for his breakfast and lunch for the next day or two. They are really portable and he will eat them cold just fine. There aren't any flours so they pull together quickly and I love that they are healthy, but he doesn't even care about that since they taste good.
A tip I can give you is to make sure you get as much grease as possible off the sausage before you put it in the muffins, or else they turn in to a bit, greasy, burning mess on the bottom of your oven. Don't ask me how I know that . . .
Can you freeze these?
We freeze ours and then reheat in the microwave. They do let out some water when you reheat so I would suggest heating on a paper towel!
Are these Paleo breakfast egg muffins portable?
They are basically little portable omelets that you can make ahead and eat when you are ready. It doesn't take very long to throw them in the toaster oven or oven for a few minutes and heat them up – or you could eat them cold like my son and since they have several different types of food, they may be all you need for breakfast.
I would love to hear if you try these and if you love them or have suggestions on how to improve them. Please comment below!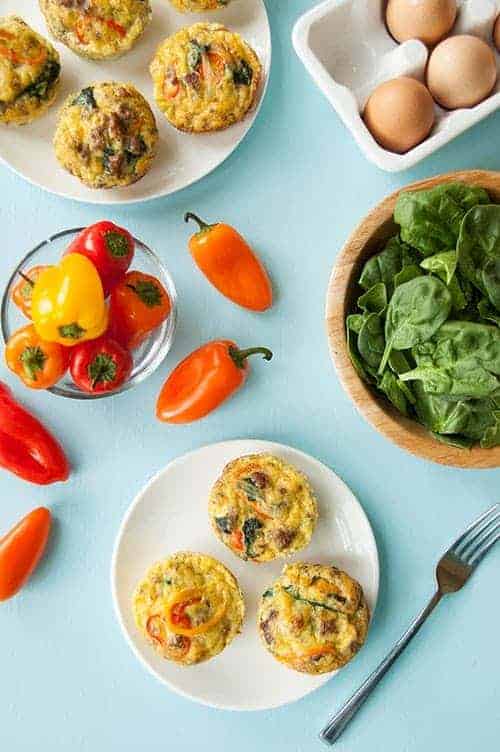 You may also like these recipes:
9 Favorite Paleo Breakfast Casserole Recipes You Can Make Ahead
9 Easy and Quick Paleo Breakfast Recipes, They'll Knock Your Socks Off!
Print
Paleo and Keto Egg Muffin Recipe
These paleo egg muffins are jam packed with flavor and come together relatively quick. They are full of color, texture, and healthy ingredients.
Author:
Prep Time:

20 minutes

Cook Time:

20 minutes

Total Time:

40 minutes

Yield:

12

1

x
Category:

Breakfast

Cuisine:

Paleo
Scale
Ingredients
8 oz

Pork Breakfast Sausage

1

Tbl Extra Virgin Olive Oil

½

Sweet Onion (thinly sliced)

¾ Cup

Red Bell Peppers (chopped or thinly sliced, any color)

1 1/2 Cup

s Fresh Spinach (packed)

9

Eggs

¾ tsp

Real Salt

¼ Cup

Coconut Milk
Instructions
Preheat oven to 350 degrees. Grease a muffin tin.
Place the ground sausage in a sauté pan and heat on medium high. Break up the pork into crumbles with a spatula as it cooks.
When the pork is half way cooked, add 1 T. of olive oil, onions, peppers, and oregano to the pan. Saute until the onion is translucent. Add the spinach to the pan and cover with a lid. Cook for 30 seconds, remove the lid and toss the ingredients. Spinach should be wilted but still bright green. Remove from heat.
Place the eggs in a large mixing bowl along with the pepper, salt, and milk. Whisk together until eggs are well beaten.
Add the sausage and vegetables to the egg mixture and mix in until well distributed.
Divide the mixture between the greased muffin tins(12 total), making sure that each tin has a somewhat equal ratio of eggs/fillings.
Bake in preheated oven for 18-20 minutes. Cool for a few minutes and remove from tins, loosening the edges first with a knife.
Keywords: sausage, peppers, onion, eggs, muffins, breakfast
Recipe Card powered by
9 Paleo Egg Muffins
I have happily put together a list of 9 Paleo egg muffins that can be made ahead of time and then heated up in the morning or made fresh the morning of breakfast! Finding something to eat for breakfast can be quite a challenge – I struggle with this myself.

I love eggs but sometimes I get sick of the same ol' same ol'. So I tried really hard to find simple breakfast egg muffin recipes but that have a good variety of flavors.
These 9 paleo egg muffin recipes are all a little bit different so you better check them all out.  All of these egg muffins recipes have eggs in them, of course, but some are mixed in a bowl and some are made in a food processor or blender.
These recipes have a lot of different ingredients added to the eggs, some of the ingredients added are bacon, sausage, ground beef and ham. There is also a big variety of vegetables added including spinach, peppers, onions, tomatoes, kale and chives. You could also add mushroom or avocado just for some suggestions.
You could pretty much try adding anything you want or happen to have around the house that you think would be good, except for the kitchen sink. Since eggs stick fairly easily to the sides of muffin pans I think it would be good to buy some silicon muffin cups to use. You can buy some here: AmazonBasics Reusable Silicone Baking Cups
Let me know what you think of these recipes and if you have other recipes that you enjoy for breakfast that are fast and easy.
1. Quick and Easy Paleo Egg Muffins – see above
Breakfast Sausage – Eggs – Ghee – Real Salt – Pepper
This recipe was developed when there was a great need to have breakfast which could be made fast and easy. Of course, it still had to be Paleo so this is the result. It's pretty simple with very few ingredients, that's why it's fast and easy.
They can be made ahead of time and just reheated in the morning. That way you can have a really quick breakfast or you can even take it with you. Double or triple or quadruple the recipe and you'll have enough for the next several days.
Eggs – Almond Milk – Kale – Chives – Real Salt – Pepper – Prosciutto
This is another pretty easy Paleo egg muffin recipe. The prosciutto makes a nice little cup for the eggs and makes it really easy to get out of the muffin pan. I like chives, I think they are underrated. They add a lot of nice flavor with very little work to prepare but the flavor isn't too strong.
They add a lot of nice color to dishes too. Sometimes we grow chives in our yard. It doesn't take much space and is easy to grow. When it's big enough I just take a pair of scissors and cut off what I want. I also use the scissors to cut it up into small pieces for serving.
If I happen to let it grow too long it goes to seed and grows beautiful huge blossoms. Some people grow them just for the blossoms because they're so big and pretty. There's no mistake though, they do smell somewhat like an onion in your yard.
Eggs – Onions – Jalapeno Pepper – Spinach – Real Salt – Bell Peppers – Almond Milk – Coconut Flour – Breakfast Sausage
You know that you can add or not add anything within reason that you would like to these recipes. They are pretty forgiving unless you add too many veggies, then there won't be enough eggs to hold them together. Bacon can be used with or without the sausage. I always cook it first so there will be less fat and to make sure it gets cooked enough. I cut it into small pieces. These really are nice little versatile little things.
Cauliflower – Eggs – Kale or Spinach – Ham – Real Salt – Pepper
This is way easier than you think. You cut the cauliflower into pieces and then you put it in the food processor to make it into raw cauliflower rice. It gets cooked in the baking. She has you mix the rest of the ingredients in a bowl and then bake it. I'm thinking why dirty the bowl.
Why can't I just zap the rest of the ingredients for a second and be done with it? There wouldn't be any chunks of kale, but I'm thinking that would be a good thing, especially for my kids. I think I would probably add the ham at the end and process it. What do you think?
Do you think it would work to make it all in the food processor? You can even tell the kids that it's green eggs and ham because, by the time they were processed, those eggs would probably be green.
Ham – Spinach – Eggs – Dried Dill – Real Salt – Pepper
Here we go again. All these bloggers want to, but don't dare, name their recipes for Paleo egg muffins "Green Eggs and Ham". The more you blend it the greener it will be. Plus super blending makes the eggs foamy, but I'm sure the foam will go away after a few minutes.
Go ahead make them for the kids and blend them up until they're nice and green and see what reaction you get. They might actually love it! If nothing else, at least you'll get their attention. This would be a good breakfast to make for St. Patrick's Day. Go ahead, do it. I dare you!
Eggs – Pesto – Almond Milk  – Chives – Onions
Here are egg muffins without any meat in it. It's one of the few I've seen. I think it sounds really good and easy to add pesto to these babies. I found a good dairy-free Homemade Pesto Recipe if you'd like to try making your own. You could always add meat if you want.
I'm wondering how tuna fish would be in these. Did anyone try it? I think it would be pretty good. I make tuna burgers all the time. All they are is tuna and eggs and flavorings. Pretty much the same thing as this only fried in a pan. I might try it sometime. I just think it's a lot easier to open a can of tuna than to fry up some sausage or bacon. I'm pretty lazy when it comes to cooking.
Eggs – Sauerkraut – Ground Beef – Garlic – Dijon Mustard – Caraway Seeds – Parsley – Real Salt
I like how these Paleo egg muffins recipes are all a little different. Some are made with sausage, some with ham, some with bacon. Some don't have any meat at all. This one is made with ground beef and sauerkraut. Now, what do you think about that? There are several things I like about egg muffins.
This time I like the idea of being able to use these for portion control. The best way to do that is to only make as many as you need. Another way would be to make them and take them to work with you. When you eat them either in the car or at work,  you won't be able to go back home for more.
They make a healthy snack too, that is if you any eat one for a snack. BTW can anyone tell me what the dark brown blob on top of these is? It looks like a prune to me. Is it a big chunk of ground beef?
Sun-dried tomatoes – Walnuts – Fresh Basil – Nutritional Yeast – Garlic – Lemon – Olive Oil – Real Salt – Eggs – Coconut Flour – Tapioca Flour – Baking Power – Black Olives
Now, these seem to be a little different than most of the other Paleo Egg Muffins here. They actually have Paleo flours in them and a homemade tomato pesto sauce on top. I should try these.
I just remembered that I have some sun-dried tomatoes in the cupboard that I made out of some tomatoes I grew in my garden. The nutritional yeast adds a hint of cheese. The pesto sauce sounds almost like my Paleo Chimichurri Sauce Recipe. I bet that would be good on here too.