This is the best classic, smooth Clean Eating hummus recipe. There is one simple, easy secret to making nice smooth hummus and I explain what it is. I also include the option to make hummus without tahini. Hummus is super-healthy, easy to make, and full of flavor.
I pretty much eat hummus all the time. It is one of my favorite things to eat for part of my lunches. It is great to go with The Very Best Ever Healthy Clean Eating Pita Recipe or veggies, such as carrots or peas or my Easy 4 Ingredient Spelt Tortillas. Our smooth hummus recipe has a lot of flavor and is very smooth and doesn't have an odd texture to it. Most of my children love hummus too and they love to eat vegetables with it.
Watch this video to see how easy it is to make this Clean Eating hummus:
Watch on Youtube – https://youtu.be/NC9X4myzKec
For those of you who have not met Hummus yet, let me tell introduce you. Hummus is a traditional Middle-Eastern dip comprised mostly of heart-healthy garbanzo beans. You can find hummus in many different flavors: horseradish; roasted pepper; curried; black bean; roasted eggplant; as well as many others.  Hummus can be used as a dip, on sandwiches, and as a topping. I could go on and on about it!
How to Make Hummus Smooth
The secret to a perfectly smooth hummus is peeling the skins of the chickpeas off. It is definitely time-consuming but makes a HUGE difference. If you hold each chickpea between two fingers and pinch it a little, the skins will sort of just pop off. It adds about an extra 8-10 minutes to the prep time, but I think it's worth it. You can make the hummus with the skins on, but it will not have the same smooth texture. Besides, my kids think it's fun when they pop out of the skins and they like to do it.
How to Add Extra Flavor
This is extra good with roasted red pepper on top. Just bake a red pepper until it's charred on the outside and soft inside, then put it in a bowl with a lid on it, or plastic wrap over it or in a bag – just some way to steam it. Do that for about 10 minutes or so and then the skins come right off. Then just throw it in a food processor or blender. It's so good and flavorful and not spicy at all and compliments the garlic in the hummus really well. Trust me. Now that I've tried it with the red pepper, I'm never going to eat it plain again. You can see me showing how to make the sauce in the video above.
If you want some extra flavor in your hummus, don't be afraid to experiment and add things like a roasted red pepper, jalapeno, sun-dried tomatoes, curry seasoning, green olives, red pepper seasoning or cucumber and dill. Or add things on top – like pine nuts, caramelized onions or blended roasted red peppers. Hummus is really good in place of mayo. on sandwiches or in pita bread and is good as a side with Middle Eastern food, like kabobs or Oven Roasted Chicken Shawarma.
Why Is Hummus So Healthy?
Hummus is made up mostly of garbanzo beans (chickpeas) which are often called the most nutritious food in the world. Garbanzo beans are loaded with fiber, which is helpful for proper digestion and proper digestion helps to boost your immune system and prevent diseases. A half-cup of garbanzo beans has about 143 calories, 27 grams of carbohydrates, and 6 grams of muscle-boosting protein. They are an excellent source of dietary fiber with about 5 grams in a half-cup serving. They are also nutrient-dense; packing magnesium, potassium, and iron! You get all of these benefits in the virtual cholesterol and trans-fat-free garbanzo bean!
You can get garbanzo beans either in dried form or in a can. I prefer the canned beans since they are ready to use. It is very easy to find these beans in an organic variety, so if you are going for organic eating, this one is for you.
Healthy Homemade Smooth Clean Eating Hummus Recipe Without Tahini
A traditional Hummus is made with Tahini (ground sesame seed paste) but I never seem to have any just hanging around the house and I don't particularly like the taste of tahini. Don't worry if you do not have any at home, you can make a fantastic hummus without it! After you master the traditional hummus, feel free to play with your recipe to create some amazing hummus spreads (my favorite has to be horseradish or maybe roasted red pepper. I can't decide . . .)! It will only take you about 5 minutes to make this amazing dip!
What To Serve it With
You can serve your hummus dip with veggies, homemade tortillas, crackers, and flatbread. If often eat hummus for lunch, either a big bowl with some carrots and maybe some crackers as my meal. Or I really like to use it in place of mayo. on sandwiches or wraps. It's healthier and I really like the flavor, especially if your sandwich has some Mediterranean flavors on it.
And you never know who will like hummus. Our two little girls love it. When I first started eating it, I never even thought to offer it to them. It doesn't seem like something a kid would like. Then they started stealing my baby carrots and dipping it in my hummus and eating it and loving it. Now I have to get some for them every time I make some for me (as long as it's not too spicy).
Do you have a favorite hummus variety? I would love to hear any adaptations, varieties or favorite ways to eat it. Please comment below.
Here are some answers to some common questions about hummus without tahini:
What can I use as a substitute for tahini in hummus?
Tahini is a butter made out of sesame seeds. The recipe below substitutes peanut butter but any nut butter would probably work fine, but I haven't tried them so I can't say for sure. Some people just replace it with ground cumin and olive oil. I made this recipe and just left out the tahini, I didn't replace it with the peanut butter but I did put extra cumin and olive oil in it and it tasted fine. It won't taste the same for sure, it had a very mild plain flavor.
Why do they put tahini in hummus?
Tahini is very tasty to some people and gives the hummus and extra nutty flavor.
Is tahini good for you?
Tahini contains more protein than most nuts and milk. It is rich in B vitamins, vitamin E, magnesium, calcium, and iron. So yes, I would say it's good for you.
Can you use sesame seeds instead of tahini?
Yes, you can. I found this HOMEMADE HUMMUS (USING SESAME SEEDS INSTEAD OF PURCHASED TAHINI) online. You might like to check it out.
Hummus is a healthy and delicious snack – not to mention very easy and quick to make. These are all things I look for in a great snack. That is probably why I consume so much of it. 🙂 What do you enjoy eating with hummus? I would love to hear how I can make it more versatile. Comment below.
You may enjoy this Yeast-Free, Quick Naan Bread to go with your Classic Clean Eating Smooth Hummus Recipe.
You may also like these recipes:
9 of the Best Easy, Cheap Clean Eating Appetizers for a Fun, Healthy Party!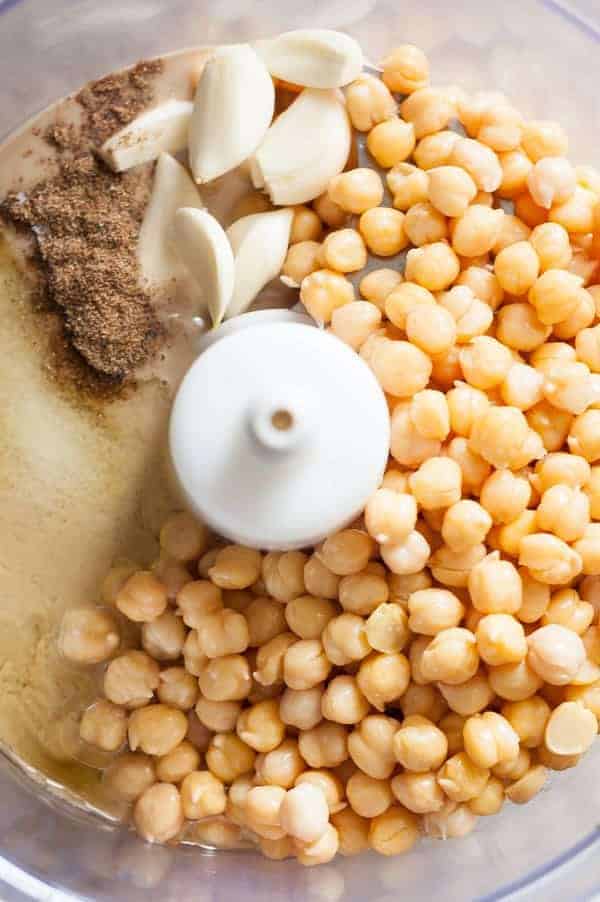 Print
Classic, Smooth Clean Eating Hummus Recipe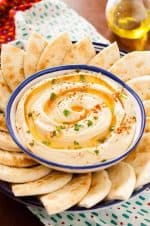 The secret to a perfectly smooth hummus is peeling the skins of the chickpeas off. It is definitely time consuming, but makes a HUGE difference. If you hold each chickpea between two fingers and pinch it a little, the skins will sort of just pop off. it adds about an extra 8-10 minutes to the prep time, but I think it's worth it. You can make the hummus with the skins on, but it will not have the same smooth texture.
Author:
Prep Time:

20 minutes

Total Time:

20 minutes

Yield:

8

1

x
Category:

Appetizer

Cuisine:

Clean Eating
Scale
Ingredients
15 oz

Can Chickpeas (skins removed (Garbanzo beans))

1/3 Cup

Tahini Paste (or substitute 2 Tbl. peanut butter and

1/8 tsp

. of cumin)
Juice of

half a

large Lemon

1/4 Cup

Olive Oil

2

Cloves Garlic

1/8 tsp

Cumin

1

t Real Salt

3

–

4

T Water (or reserved liquid from chickpeas)
Olive oil (for garnish)
Paprika (for garnish)
Chopped Parsley (for garnish)
Instructions
Place all ingredients(except for water) in the bowl of a food processor. Process until very smooth, at least 1 minute. Add water, 1 tablespoon at a time, and process until desired thinness is achieved. Check seasonings and add more salt if desired.
Spoon Hummus into a bowl. Drizzle the top with olive oil and sprinkle a few dashes of paprika and a few pinches of parsley on top.
Optional toppings or mix-ins – roasted red pepper, horseradish, sun-dried tomato, roasted garlic, jalapeno, cilantro, cucumber, avocado, cayenne pepper or paprika
Keep refrigerated.
Keywords: chickpeas, cumin, lemon, Smooth Hummus
Recipe Card powered by