If you've read any of my other posts here, you'll know that food is my kryptonite, and not just any food it's usually fattening and full of carbs. Yes, it's delicious, but it also makes me feel like Hades. Sluggish, overweight and not happy.  I've truly made it my mission to find recipes that are healthy and more importantly, can TOTALLY duplicate a calorie laden, knock your socks off recipe, without sacrificing FLAVOR and of course without all the calories.
I believe I have found the most delicious and flavorful recipes, which I personally use.  These are 25 of the best recipes for healthy chocolate zucchini bread.  Now I know that healthy and chocolate don't usually go hand in hand, but in this instance you have to trust me when I say that they do.  But for the record, cocoa beans and cocoa chocolate in it's most natural and raw state have beyond unbelievable health benefits. I won't dangle the bait any longer, let's introduce these knock your socks off recipes! -
1. Whole-Wheat Zucchini Bread with Cinnamon & Dark Chocolate Chunks
2.  Best Chocolate Zucchini Bread (Gluten Free, Paleo)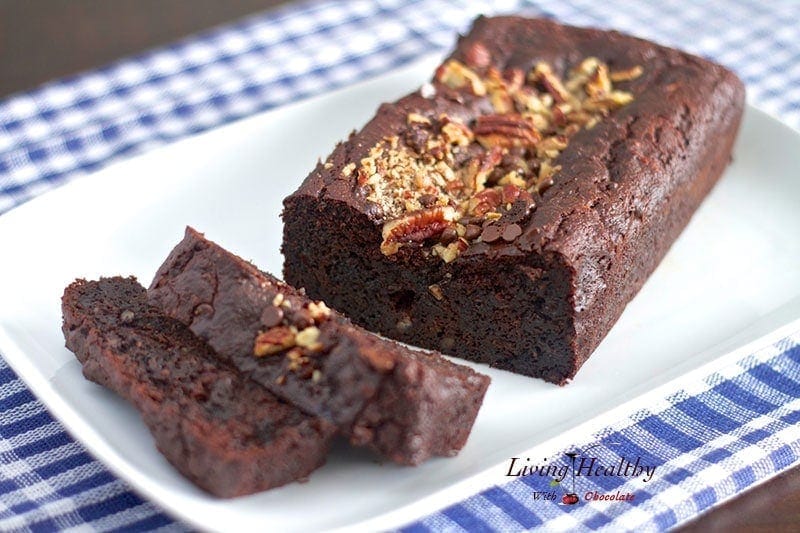 3.  Low Fat Chocolate Chip Zucchini Bread
4.  Chocolate Chocolate Chip Zucchini Bread
5.  Healthier Chocolate Chip Zucchini Bread
6.  Eggless Zucchini-Chocolate Bread with Walnuts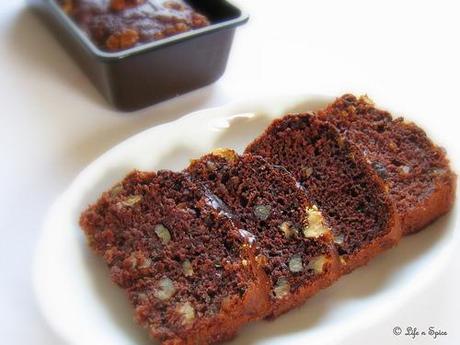 7. Gluten Free Chocolate Zucchini Bread
8.  Chocolate Zucchini Bread (PMS Bread)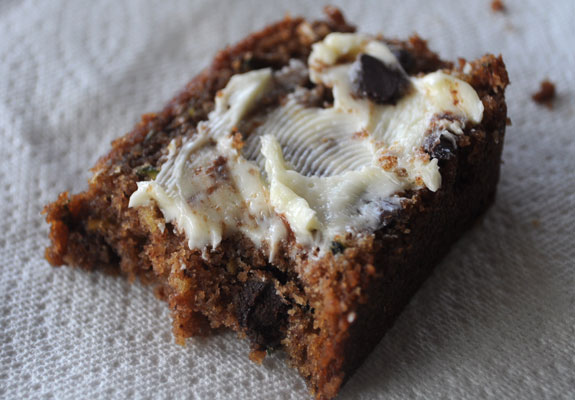 10. Healthy Whole Grain Chocolate Zucchini Bread
11.  Double Chocolate Chip Zucchini Bread
12. Vegan Chocolate Chip Zucchini Banana Bread
14.  Double Chocolate Veggie Nut Bread
15. Chocolate Chip and Walnut Zucchini Bread
16. Chocolate Chocolate Chip Pumpkin Zucchini Brownie Bread
18. Double Chocolate Zucchini Bread
19. Zucchini Bread Pancakes (With Chocolate Chips & Walnuts)
20.  Low-Fat Chocolate Chip Zucchini Bread
21. Chocolate Chip Coconut Zucchini Bread
23.  Gluten Free Zucchini Banana Walnut Chocolate Chip Bread
24. Zucchini Chocolate Chip Brownies
25. Chocolate and Zucchini Bread
My personal favorite is #16. now while the recipe calls for boxed cake mix, I actually substitute that with a few super healthy flours and real cocoa powder, it makes a HUGE difference in flavor.  My version tastes better and is much healthier! I'd also like to add that often times when baking a paleo/gluten free dessert it sometimes lacks moisture (especially in chocolate cake recipes) but my secret weapon…avocado! It has the perfect components to give it that added fat and moisture, and you can't even taste it! I have a ton more tips and tricks for you, just let me know, I'm happy to help!
As a thank you for reading this blog post, please enter the giveaway below for a chance to win a free bottle of doTERRA Deep Blue Roll On 10ml. a Rafflecopter giveaway
The fine print: In order for me to support my blogging activities, I may receive monetary compensation or other types of remuneration for my endorsement, recommendation, testimonial and/or link to any products or services from this blog. My Natural Family is a participant in the Amazon Services LLC Associates Program, an affiliate advertising program designed to provide a means for sites to earn advertising fees by advertising and linking to amazon.com. I try my best to be honest and will not recommend product I truly don't believe in. The advice shared in this post has not been evaluated by the FDA. The products and methods recommended are not intended to diagnose, treat, cure or prevent any illness or disease, nor is it intended to replace proper medical help.