I have 9 Paleo ground beef recipes here for you to enjoy. Hamburger meat, as my son calls it, is a great way to go if you eat Paleo and are on a budget. Paleo grass-fed ground beef is not only easy on the budget – well not much Paleo is easy on the budget – but for Paleo, ground beef is easier on the budget than most meals, that's for sure.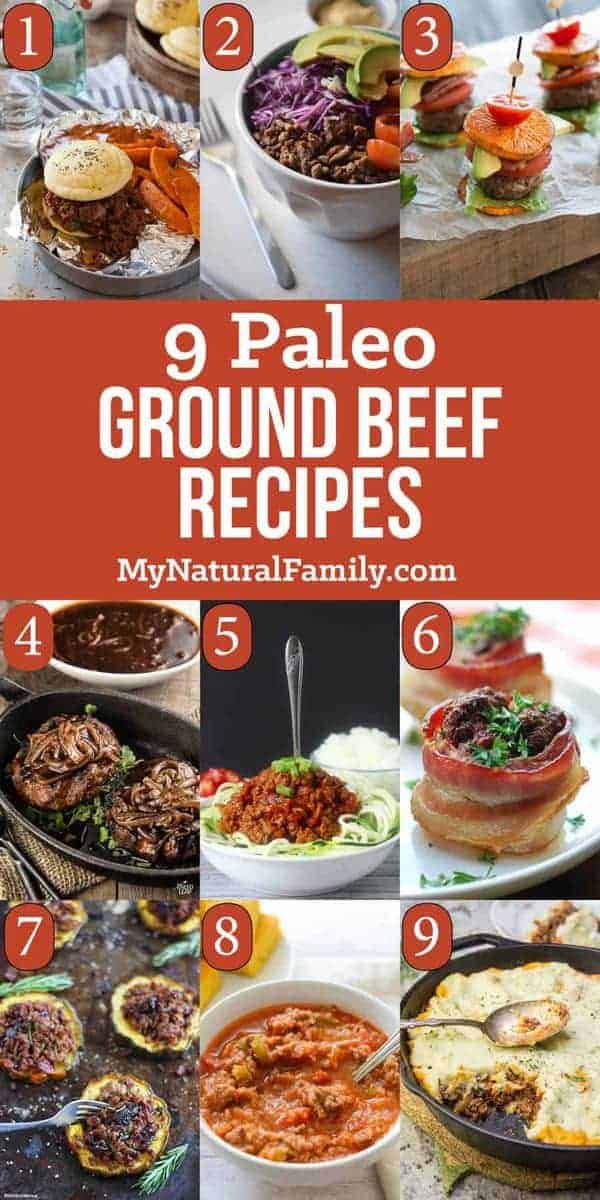 Paleo ground beef is also quick and easy to prepare. It cooks up fast because there are no large pieces to take a long time to cook. My children also generally like ground beef better than chicken and they don't seem to get as tired of it as chicken.
I have some great recipes you are going to want to try because ground beef is not just for spaghetti or meatloaf.  Since there are so many ways to make Paleo ground beef recipes, I thought I'd put them together for you and make it easy to whip up at least 1 weeks worth of meals.
When are are on the Paleo diet, you really should be trying to eat grass-fed beef when at all possible. If you are looking for a good place to buy it, I buy most of mine here and I love how easy it is to buy and how affordable it is if I buy a lot and fill up my freezer.
Ground beef is a staple around my house and I bet it is at your house too. You better bookmark this post so you can get back to it over and over again.
You may also like these recipes:
The Best Paleo Crock Pot Recipes That Will Simplify Your Life
9 of the Best Paleo Meatballs Recipes Provide Inexpensive Protein
Ground Beef – Bacon – Onion – Pepper – Paleo BBQ Sauce – Paleo Hamburger Buns
It's impossible to find a bottle or can of sloppy joe sauce in the store that doesn't have a ton of high fructose corn syrup in it. I got really frustrated with that so I developed 3 really good recipes so you can have the best Paleo sloppy joes in the world. You'll love these sloppy joes because they have BACON in them. Plus I make it with my own Paleo BBQ sauce recipe and my own Paleo hamburger bun recipe. I think you'll be really happy you found this. They are delicious paired with my homemade Paleo Sweet Potato Fries.
Ground Beef – Red Cabbage – Cherry Tomatoes – Avocado – Paprika – Garlic Powder – Onion Powder – Real Salt – Black Pepper
This is my version of a hamburger in a bowl. Well, it does have a lot of the ingredients on a hamburger but since I can't eat hamburger buns this is the perfect solution. I get all the flavors of the ground beef, tomatoes, avocado and cabbage and I can just eat it with a spoon. Sometimes I like to add a little cooked brown rice if I'm not worried about eating the carbs.
Sweet Potatoes – Ground Beef – Fresh Coriander – Garlic – Onion – Avocado – Tomatoes – Lettuce – Coconut Oil
This is a simple recipe for little hamburger sliders with sweet potato as the buns instead of regular buns. This is a nutrient-packed recipe that would be great on a summer evening or for a quick lunch. I love recipes with simple ingredients and knowing what I am going to be eating!
Ground Beef – Almond Meal  – Egg – Garlic – Thyme – Red Onions – Beef Stock – Tomato Paste – Tapioca Starch – Ghee – Real Salt
It wasn't for a while until I realized Salisbury streak isn't actually a recipe for "steak" it is really made from ground beef and is basically a ground beef hamburger with a sauce on it. Salisbury steak is also a classic and common frozen food meal. You can find a frozen meal pretty easily. This could be a good freezer meal you make ahead of time and just simply heat up when you are ready to eat it. So you are looking for a simple meal to have on hand and you can replace with some of those frozen meals in your freezer you might give this one a try.
5. Easy Chili – Jay's Baking Me Crazy
Ground Beef – Onion – Roasted Tomatoes – Tomato Sauce – Garlic Powder – Chili Powder – Real Salt
Chili can be a hearty and filling meal for lunch or dinner. This is a simple dish where you cook the ground beef and then add all the other ingredients to the pan after you drain the oil and let it cook for about 30 minutes so it can develop flavors and really cook through. They suggest putting this chili on top of zucchini noodles or a sweet potato to add a starch or carb to the meal.
Ground Beef – Real Salt – Garlic Powder – Onion Powder – Smoked Paprika – Thyme – Bacon
This works well as an appetizer or part of the main dish. These fun-size meatloaf bites can also be prepared with another simple veggie dish to make a complete meal. The caramelization of the bacon makes these bacon wraps quite enjoyable to eat and might be hard to share with a whole group.
Acorn Squash – Olive Oil – Garlic – Dried Cranberries – Fresh Rosemary – Ground Beef  – Real Salt – Caraway Seeds
Here is a dish for a pairing of a vegetable with a ground beef mixture inside of it. The acorn squash soaks up the flavor of the mixture to give it a yummy flavor. This can be a fun way to mix up having the beef with a vegetable so it is a little different than the last time you had something similar.
Coconut Oil – Ground Beef – Onion – Bell Pepper – Tomatoes – Tomato Sauce – Chicken Broth – Garlic Powder – Cauliflower – Real Salt
Next, we have a hearty soup for you to try. It supposed to taste like a stuffed pepper but in soup form. I love to make soups especially when it is cool, they are simple and can be packed full of good nutrients.
Onion – Garlic – Celery – Carrot – Coconut Oil – Ground Beef – Dry Red Wine  – Tomato Paste – Tomatoes – Thyme – Cauliflower
The last recipe we have for you today is a shepherd's pie. It is basically a savory ground beef mixture full of vegetables topped with a cauliflower puree. I have seen a lot of different shepherd's pie recipes and this one definitely looks like it could be a good fit for me.