Check out these gluten-free side dishes! In my opinion side dishes are the best part of every meal. These recipes will wow you! Even though some side dish recipes include fruits and vegetables, which are naturally gluten-free, often times salads and vegetable recipes include things that are not gluten-free, such as croutons, breading, sauces and hidden ingredients.

That's why I have this index of all my favorite gluten-free side dishes from my blog. Many times I forget about certain dishes for a while and I need a reminder about the side dishes I love. This way I can just come back here and remind myself about all the great gluten-free side dishes I have. You can do the same.
Just come back here to remember and find the gluten-free side dishes you love. Check back every now and then because I am always adding new recipes. I keep my lists up to date. I don't just make them and forget about them like some bloggers do.
Don't you hate it when you think something is gluten-free and then you find out it isn't. It's very frustrating for me. With these recipes, you don't have to worry. I check the ingredients very carefully and make sure they are all gluten-free.
I have some great recipes here and I think you'll be pleasantly surprised at what you can find here. I hope you'll come back again and again. I hope glutenfreedaddy.com will become your favorite blog for gluten-free recipes. Come back soon!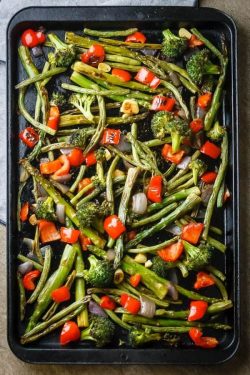 These simple, healthy Paleo roasted vegetables are my absolute favorite way to cook & eat vegetables whether it be broccoli, green beans, asparagus, summer squash or potatoes.  I've made it with so many different types of vegetables and they are all amazing.  It's so good with broccoli, a squash medley, green beans, asparagus, etc.
Simple, Healthy Roasted Vegetables Recipe {Paleo, Gluten-Free, Clean-Eating, Dairy-Free, Whole30, Vegan, Keto}Read More