Here is a list of gluten-free dinner recipes. Since I have had to go gluten-free, I found that it's hard to find a variety of gluten-free dinner recipes. Going gluten-free is actually one of the things that made me start blogging. I decided that I was probably not the only person that has had a hard time finding gluten-free dinner recipes.
All of these recipes are gluten-free dinner recipes that you can make for dinner. Good gluten free dinner recipes are hard to find, that's why I have done all the work and found them for you.
I actually have 50+ recipes that I have developed and made myself.  I have developed some great gluten-free dinner recipes that make a good variety of meals for dinner and they are all main dishes.
I know a lot of people that don't plan what they are eating for dinner ahead of time. When it's time to make dinner they start thinking, oh what am I going to make for dinner tonight. Well, if that is how you work then these gluten-free dinner recipes is just what you need.
We do things a little differently in our house from most people I know. My mother is very organized and as long as I can remember my mother has had (and still does) a regular routine for deciding what we would eat for dinner and the way she did grocery shopping. Every Saturday morning my Mom and Dad go grocery shopping together, it was like their date for the week. My dad loves to go grocery shopping, we always teased him that is was the only time he would spend money. (He is rather tight with his money, mostly because he doesn't have very much.)
Anyway, my Mom would always make a menu (she still does) before she goes grocery shopping. That means she gets out a notebook of paper and makes 7 boxes and 5 columns, one box for each day of the week and 1 column for each section of the grocery store. She would make a column each for produce, meat and dairy, freezer, bakery and canned miscellaneous goods. After she decides the meals she is going to make for the week she makes lists in the appropriate columns of what she needs to buy then she goes grocery shopping.
This routine works out well for her because she knows exactly what she wants to buy when she gets to the store and she can get finished quickly. This way she never forgets anything she needs and because she checks the refrigerator and cupboards while she is making the shopping list she doesn't buy things she already has on hand. This method is also good because my mother never has to go shopping in the middle of the week and therefore doesn't spend money on impulse buying and doesn't buy things she doesn't need.
My point to all this is that for example (and she does this today) she will go to my blog, search a recipe she wants to make and then put it on her menu and make a list of the ingredients she needs. Going to my blog each Saturday and searching for gluten-free recipes or keeping them bookmarked is a very easy way to find new gluten-free dinner recipes and can help you find them quickly when you need them.
You can do the same, my recipe posts can be helpful to you no matter how you make your shopping lists or how you do your grocery shopping. My mother's organization hasn't completely worn off on me, but I try.
Now you won't have to look all over the internet or buy a bunch of recipes books. You can find all of the gluten-free dinner recipes you could ever want right here, right now.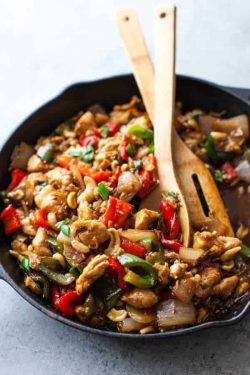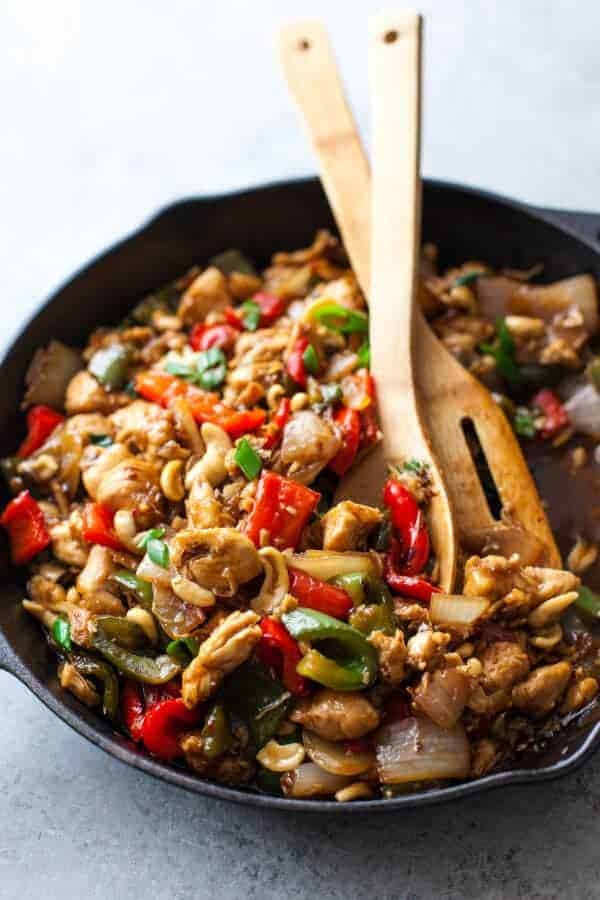 This Paleo cashew chicken is one of my favorites because it is so quick and easy to make. Of course, it tastes wonderful too. I wouldn't eat it if it didn't. One time my sister and brother were at my house and we were trying to decide if we wanted to go out or make something. I told them I could have this meal made before they could drive to the fast food place and bring it back. They didn't believe me, but I proved them wrong. It totally only took me 20 minutes to make it from start to finish. They even asked for the recipe.
20 Minute Paleo Cashew Chicken Recipe with Video {Gluten-Free, Clean Eating, Dairy-Free}Read More