These Paleo desserts recipes are great for whenever you want a nice dessert, just because you feel like it. You don't need any other reason. These are the best Paleo desserts recipes there are. Now you can eat dessert and not feel all the guilt that comes along with it.

Are you looking for a good Paleo cookie recipe or Paleo desserts recipes? Well, here are the best Paleo desserts recipes you will ever find anywhere. You won't have to look any further and you can refer back to these recipes often if you need to!
*Please note that most of the links on this page are affiliate links. This means if you click on a link and purchase, you will receive the same price, but I will receive a little money for referring you to the product. This helps keep this blog free for you. I truly appreciate you supporting my blog.
---
MY OTHER RECIPES
Personally, I recommend that you don't eat too many sweets on the Paleo diet. However, sometimes you just need something sweet and sometimes you have an event to go to and you need to bring a dessert – or you want to bring something you can eat so you're not the only person sitting there not eating dessert.
Many of these desserts will fool those people that don't like healthy food. I'm not going to lie though, not all of these recipes will fool them. Different flours have different textures and flavors. Take coconut flour, for example, it is one flour that tastes so different than normal flours and the texture is so different that people will notice that one.
What about chocolate?
Okay, some people say that chocolate isn't Paleo. You are going to need to decide that for yourself. Most people I know that are on a Paleo diet eat a little chocolate now and then. Plus, some people I know aren't on an extremely strict Paleo diet.
They just try to do the best they can with what they can. Eating can be very expensive so some people are only able to eat Paleo part of the time. They still try to eat healthy all the time though. After seeing all of the best Paleo chocolate dessert recipes that I have on here, you may just change your mind and eat a little chocolate now and then, if you don't eat chocolate now.
There are chocolate chips on the market that don't have any milk in them. So try to buy the Enjoy Life brand when you can. You can purchase them HERE if you want to.
Not sure if chocolate is Paleo, want to decide?  Read our "Is Chocolate Paleo?" article to help you decide.
Finally, something to eat that tastes really good and sweet on the Paleo diet. Yeah, for dessert. Enjoy all of these Paleo dessert recipes and let me know which ones are your favorites.
Paleo Dessert Recipes from Other Bloggers with Over 50,000 Pins
Bananas  – Honey – Butter  – Applesauce – Egg – Coconut Flour – Almond Meal
Edible Chocolate Chip Cookie Dough Recipe
Almond Flour – Tapioca Flour – Butter – Honey – Dark Chocolate
Apples – Coconut Milk – Lemon Juice – Maple Syrup – Coconut Sugar – Coconut Flour – Almond Flour – Nuts
Hazelnut Flour – Cocoa Powder  – Coconut Oil – Maple Syrup – Coconut Milk
Pecans – Dates – Coconut Oil – Cashew Butter – Palm Shortening – Apple Cider Vinegar – Arrowroot Flour – Coconut Flour – Coconut Milk – Honey – Cocoa Powder – Honey – Dark Chocolate
Blueberry Cheesecake with Lime
Dates – Macadamia Nuts – Coconut Cream – Cashews – Lime Juice – Maple Syrup – Blueberries
Pumpkin Puree – Bananas – Coconut Sugar – Coconut Milk – Maple Syrup – Cinnamon – Ginger – Nutmeg
Coconut Cream – Blueberries  – Maple – Syrup – Vanilla Beans
Cashews – Almonds – Dates – Blueberries – Lemon Juice
Avocado – Cocoa Powder – Maple Syrup – Coconut Oil – Vanilla – Coconut Milk
Coconut Flour – Cocoa Powder – Coconut Oil – Eggs – Maple Syrup -Chocolate Chips
Eggs – Cocoa Powder – Palm Sugar – Coconut Oil
Sticky, Ooey, Gooey Cinnamon Rolls
Coconut Oil – Egg – Honey – Almond Flour – Coconut Flour – Dates – Cinnamon – Walnuts – Coconut Cream
Almond Flour Chocolate Chip Cookies
Butter – Coconut Oil – Coconut Sugar – Eggs – Almond Flour – Chocolate Chips – Walnuts
Almond Flour – Coconut Flour – Coconut Oil – Coconut Sugar – Almond Butter – Egg – Chocolate Chips
Cocoa Powder – Dates – Nuts – Dried Coconut – Coconut Oil – Almond Butter – Coconut Milk – Almond Butter – Maple Syrup – Dark Chocolate
Cocoa Powder – Almond Flour – Espresso Powder – Coconut Oil – Honey – Applesauce – Coconut Sugar – Eggs – Chocolate Chips – Almond Milk
Dark Chocolate – Coconut Oil – Avocados – Honey – Eggs – Cocoa Powder – Coconut Flour – Maple Syrup
Deep Dish Salted Caramel Chocolate Chip Blondies
Coconut Oil – Almond Butter – Maple Syrup – Almond Flour – Egg – Chocolate Chips
Coconut Oil – Almond Butter – Cacao Powder – Maple Syrup
Cinnamon Sugar Pumpkin Donut Holes
Coconut Flour – Almond Flour – Pumpkin Pie Spice – Eggs – Butter – Maple Syrup – Coconut Sugar – Pumpkin Puree – Ground Cinnamon
I found 9 of the Best Paleo Christmas Dessert Recipes and you are going to want to keep them where you can find them when Christmas comes around. Christmas is upon us and it's time to start planning all of those Christmas parties and other special Christmas occasions. You are going to need some of these best Paleo Christmas dessert recipes, to help make all of those fun times great. These Christmas recipes would be great for those Christmas parties you need to bring desserts or treats to. They would be even better for any Christmas parties you might have…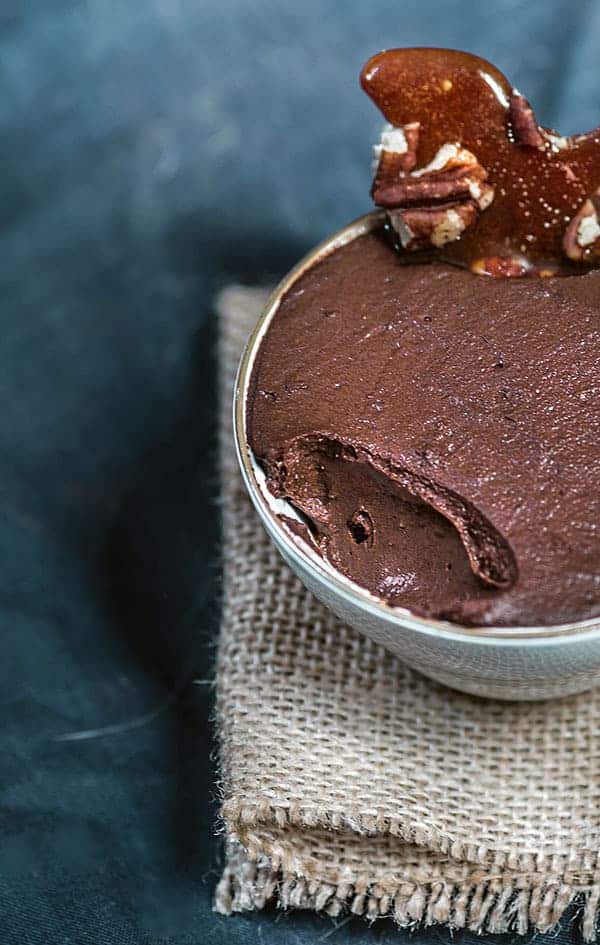 Make this avocado chocolate pudding with only 5 ingredients – dark chocolate, coconut milk, avocado, honey and cocoa. Plus, it doesn't take long to melt the chocolate and blend everything together then chill it and you end up with a rich, velvety Paleo chocolate pudding full of antioxidants. I love to make this simple dessert for myself for both special occasions and for "just because." It's great because it's so healthy with all the avocado, coconut milk and antioxidant-rich chocolate. I love how smooth and creamy it is and it's so surprising how you can't even taste the avocado. Plus…
5-Ingredient Paleo Avocado Chocolate Pudding Recipe {Gluten-Free, Clean Eating, Dairy-Free}Read More