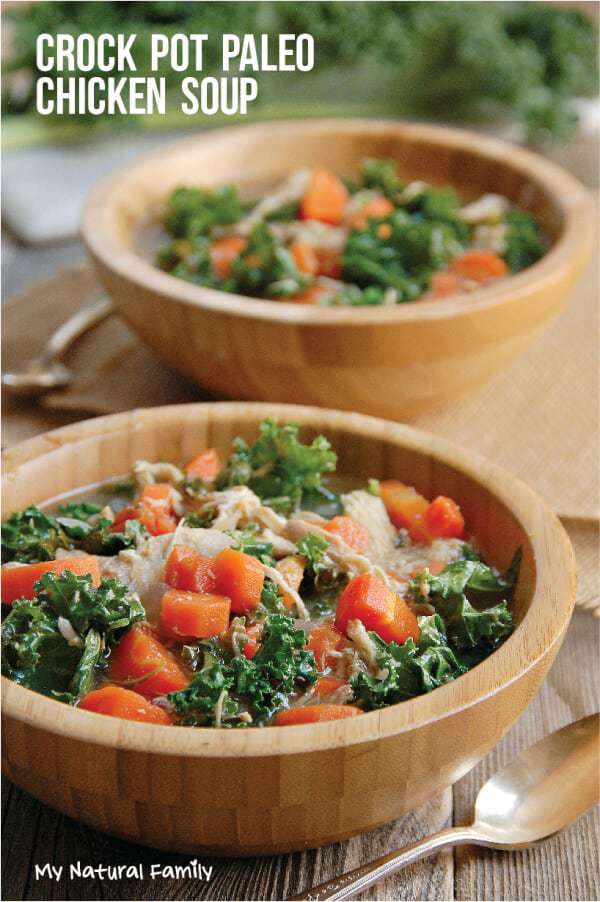 This crock pot Paleo chicken soup is packed full of hearty vegetables and tender, juicy chicken. I decided to call this chicken soup "nourishing" since you create your own meat broth using bone-in thighs. You can make it even more nourishing by throwing in some bones so you get some bone broth action going too. After all, my favorite way to make bone broth is to cook a bunch of bones in my crock pot for a few days. So go again and throw a few leftover bones and maybe a chicken foot or two in the crock pot. Oh, and after are done eating your delicious soup, make sure and save all the bones in your freezer to use in your next bone broth. Or better yet, just keep them in overnight and have a delicious, rich bone broth in your crock pot in the morning.
Something else unique about this recipe is that you don't put the vegetables in the crock pot until the last two hours. I just can't stand it when vegetables are cooked all day in the crock pot and end up mushy and barely have any nutrients left in them.
Another trick you could do to satisfy multiple diets (which we do all the time at my house) is to cook this version for you but cook some noodles separately and those who want can add noodles to their soup.
My recipe library tends to be packed full of crock pot recipes because they are so magical. Recipes in the crock pot typically taste very good and they are so convenient! You can throw everything in a pot, turn it on and then you can do other things. When it is dinner time you can come back and have a great meal!
I hope you enjoy this recipe as much as I did! If you try this soup let me know what you think of it and any changes you would make!
If you like this post, please:
I have two pressure cookers and I love them. They have 7 functions but the main ones I use are pressure cooker, crock pot and rice cooker. It really does all those things and more. It cooks rice in only 12 minutes, steamed cauliflower in 10 and things like soup in 20-30 minutes and it tastes like it's been cooking in the crock pot all day - but it's more moist than a crock pot and way faster AND if you are forgetful like me, you don't have to remember to start it in the morning. I make all my crock pot recipes in it now and it is way faster and my favorite recipes taste just as good, if not better. You can make almost any crock pot recipe into a pressure cooker recipe and it only takes about 30 minutes or less and tastes really good. Plus, they are easy to use and not dangerous like the stovetop kind. This is the pressure cooker I bought - you have got to get one and try it!
Did you make this recipe? Take a photo and post on Instagram using hashtag @mynaturalfamily and if we like it, we'll add your Instagram post at the bottom of this page!
Nourishing Crock Pot Paleo Chicken Soup Recipe
---
My Natural Family
A one-pot chicken soup with a nourishing broth made from chicken bones, fresh thyme, garlic. Loaded with bright vegetables and tender, fall off the bone chicken.
45 minPrep Time
6 hrCook Time
6 hr, 45 Total Time
Ingredients
2 pounds Chicken Thighs bone-in, skin removed(about 5 thighs)
1/2 Tbsp Real Salt
1/4 tsp Pepper
2 Sprigs Fresh Thyme
2 Garlic Cloves minced
5 Cups Water or Chicken Broth
2 Tbsp Chicken Base (if using water instead of chicken broth)
1 lb. Carrots peeled, sliced in half lengthwise and cut into 1/4" slices
1 Yellow Onion diced
1/2 Bunch Kale (about 4 C. packed) stems removed, chopped into bite sized pieces
1/2 Tbsp Fresh Thyme chopped
additional Real Salt& pepper to taste
Instructions
Place the chicken thighs in the base of a crock pot. Sprinkle the salt and pepper over the chicken.
Place the thyme sprigs and minced garlic on top of the chicken.
Pour the water(or chicken broth) into the crock pot. Add the chicken base, if using.
Cook the chicken on high for 4 hours.
After 4 hours the chicken should be "fall off the bone" tender.
Remove the chicken from the crock pot and place in a bowl.
Remove the thyme sprigs and discard.
At this point, if you desire, you can strain the broth in the crock pot through a fine mesh sieve(if you want a broth free from any debris left from the chicken).
Add the broth back to the crock pot after straining.
Turn heat back to high.
Separate the chicken from the bones.
Lightly shred the chicken. Discard any cartilage.
Add the bones back to the soup and cover and refrigerate the chicken.
Add the carrots, onions, and chopped thyme to the broth and cook on high for 2 hours.
In the last 1/2 hour of cooking, add the kale to the soup.
After 2 hours the carrots should be soft and tender, along with the kale.
Remove the bones from the soup and discard.
Check the seasonings and add more salt or pepper as necessary.
Add the chicken to the soup and allow to reheat for about 10 minutes. Do not stir too much or the chicken will become over-shredded.
Serve
http://www.mynaturalfamily.com/recipes/paleo-recipes/nourishing-crock-pot-paleo-chicken-kale-soup/
Check out this recipe on Instagram:
Did you make this recipe? Take a photo and post on Instagram using hashtag @mynaturalfamily and if we like it, we'll add your Instagram post at the bottom of this page!