These are my best ever Paleo chicken recipes that are fun and easy to make for any meal anytime, anywhere. Now you have to decide which one you are going to choose. Chicken has always been a staple food in my home; It seems like I'm always cooking some type of chicken.
I have been more or less following the Paleo diet for over 10 years now and I have eaten so much chicken in that amount of time, I think I may just grow chicken wings one of these days. 🙂
*Please note that most of the links on this page are affiliate links. This means if you click on a link and purchase, you will receive the same price, but I will receive a little money for referring you to the product. This helps keep this blog free for you. I truly appreciate you supporting my blog.
---
MY OTHER RECIPES
Seriously though, I got so, so sick of chicken – so I set out on a mission to find a variety of recipes for myself and to share with you. I have also tried out many of these recipes on my four children and husband because they always complain that I make chicken too much and they get even more tired of chicken than I do.
I love chicken breasts because they are a good, healthy way to get some protein into my diet. There are so many Paleo chicken breast recipes out there. But I tend to think that these are some of the best.
I rarely get tired of eating chicken, because there are so many different chicken recipes to choose from. However, when I started incorporating Paleo recipes into my diet, it was hard to find a good recipe. The hardest part was finding a recipe that did not have soy sauce in the marinade and was truly Paleo.
I was able to find all of these recipes that I can now rotate through my regular menu. I am very pleased with the list, especially since I have a variety of recipes now so that I don't get tired of eating the same recipes over and over.
When you are on the Paleo diet, make sure you use organic, pasture-raised chicken. Guess what? As a bonus, "real" chicken tastes so much better than regular chicken. It's just too bad that it's so expensive. One way I have found to buy it more affordable is to buy it in bulk online. Click here to see where I buy my chicken and other Paleo foods online.
I hope you love these recipes; they all look so yummy. Try them and let us know which you like the best.
Paleo Chicken Recipes from Other Bloggers
Almond Flour – Tapioca Starch – Honey – Hot Sauce – Chicken Tenders
These particular chicken fingers are sweet and sticky with just the right amount of spiciness. They are easy and quick to make and they're even healthy. The almond meal helps make them extra filling and adds some nice extra almond flavor. The almond flour coating also helps the sauce cling better to the nuggets.
Pickle Juice – Arrowroot Starch – Coconut Oil – Paprika – Chicken Breasts
If you like a more spongy breading around your nuggets rather than a thin coating, these are for you. He uses a method of breading called reserve battering. If you want to learn how to do it, then you can read all about it on his blog. The other interesting thing he does is use tapioca starch or arrowroot starch instead of flour or breadcrumbs.
Pickle Juice – Coconut Milk – Tapioca Starch – Chicken Breasts – Paprika – Coconut Oil
These use pickle juice as a marinade. If  you're strict Paleo look for a compliant brand of pickles such as Bubbies. You can either fry these or bake them in the oven. There are instructions for both methods. The baked ones won't be as crispy but will have less fat, but hey, it's healthy fat.
Pickle Juice or Jalapeno Juice – Coconut Flour – Chicken Breasts – Onion Powder – Garlic Powder
These are so delicious, easy and the perfect quick dinner. Because they are fried in a frying pan they are so crispy. These are also marinated in pickle juice or you can use jalapeno juice.
Coconut Flour – Almond Flour – Cashew Milk – Chicken Breasts
These are easy to make. A three-step breading process is used but don't be intimidated by it. It's quick and simple. These are baked in the oven and you'll only have to wait fifteen minutes to eat them. You won't want to wait any longer.
Tapioca Flour – Chicken Thighs – Garlic – Paprika – Tapioca Flour – Preserved Lemon
Kids are sure to love these with their juicy goodness. They are the ultimate finger food in my opinion. My son loves chicken fingers to death. They are definitely something you'll want to make for a special occasions or party of any kind. The preserved lemon is something new to me. They are just lemons preserved like cucumbers are preserved and turn into pickles.
Tapioca Flour – Chicken Breast – Coconut Oil – Cayenne Pepper – Paprika – Onion Powder
These nuggets are great for making ahead of time. You can crisp them up by putting them either under the broiler or in a toaster oven for a few minutes. They are simply delicious. Everyone I know loves chicken nuggets. Do you know anyone that doesn't like them?
Coconut Flour – Hot Sauce – Chicken Tenders – Cayenne Pepper – Garlic Powder – Real Salt – Butter – Coconut Oil
These are so simple and easy to make. They can be done in under 30 minutes. Just don't tell anyone they are healthy and they'll never know the difference. They're great for parties and while watching TV. Whenever you serve them they'll be a real hit.
If you like these recipes, you may also like these recipes:
The 25+ Most Pinned Paleo Recipes with Over 50,000 Pins!
25 Best Paleo Dinner Recipes with Over 50,000 Pins!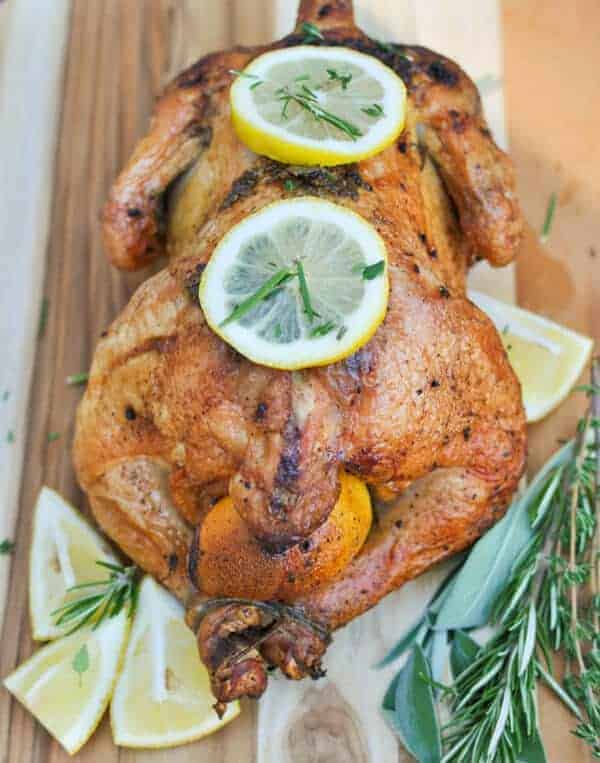 This Paleo roasted chicken recipe is such a perfect example of an economical, simple home-cooked meal. It's flavored with simple herbs, lemons, and a little butter or ghee and it's just the type of recipe to bring the whole family together. CLICK to Pin This! >> I was at the grocery store the other day lamenting how much money I was spending.  I whole heartily believe that eating healthy is an investment in my health, and well worth the extra money…but that doesn't mean that I like it.  Anyway, I came across a whole organic chicken on sale for a…
Lemon Garlic Herb Paleo Roast Chicken Recipe {Whole30, Keto, Gluten-Free, Clean Eating}Read More