I have a list of 35 easy Paleo chicken recipes here. I have been more or less following the Paleo diet for over 10 years now and I have eaten so much chicken in that amount of time, I think I may just grow chicken wings one of these days. 😉 Seriously though, I get so, so sick of chicken – so I set out on a mission to find a variety of Paleo chicken recipes for myself and to share with you. I have also tried out out many of these recipes on my four children and husband, because they always complain that I make chicken too much and they get even more tired of chicken than I do.
I have a big variety of recipes in this post, all with large images so you can see what you like. If you see something you like, just click on the link above the image or the image itself and it will take you to the recipe. Most of these recipes are pretty easy too, you won't have to look any further.
When you are on the Paleo diet, make sure you use organic, pasture-raised chicken. Guess what? As a bonus, "real" chicken tastes so much better than regular chicken. It's just too bad that it's so expensive. One way I have found to buy it more affordable is to buy it in bulk online. Click here to see where I buy my chicken and other Paleo foods online.
If you want to see more lists of Paleo chicken recipes on my blog, please click here and there are lots of choose from, like one dish meals, chicken nuggets, chicken salads, chicken soup and slow cooker chicken recipes.
I hope you love them, they all look so yummy. Try them and let us know which you like the best.
This recipe is from my blog. I love it because it's so healthy and so easy and I'm always surprised by how much my children like it (although they won't touch it with kale in it). I think part of the reason chicken soup is popular is because it's so simple, as in there aren't a lot of ingredients for people to object to – plus it's comforting.
I like to make these skewer year-round because they aren't too messy for inside, like some BBQ recipes are. Plus, they are easy to throw together and grilled pineapple is my favorite fruit ever.
I love how I can just throw this in the oven and do anything I want while my dinner is cooking. Bonus, it has good flavor that's a little unique and a little familiar.
Just look at these. They are bursting with tons of flavor and have such a deep, rich flavor with a little tang. I love to get my fingers all dirty eating these. I've even served these to my non-Paleo family and they love them!
I love to make this chicken in the fall when we have peaches coming out our ears in Utah, but anytime I can get my hands on peaches, I'll make it. I love how easy it is, but how it looks kind of fancy. Bonus, it's a fairly unique dish as well.
I love the unique flavor combinations on this pizza and I love how I feel after I eat it, unlike normal pizza.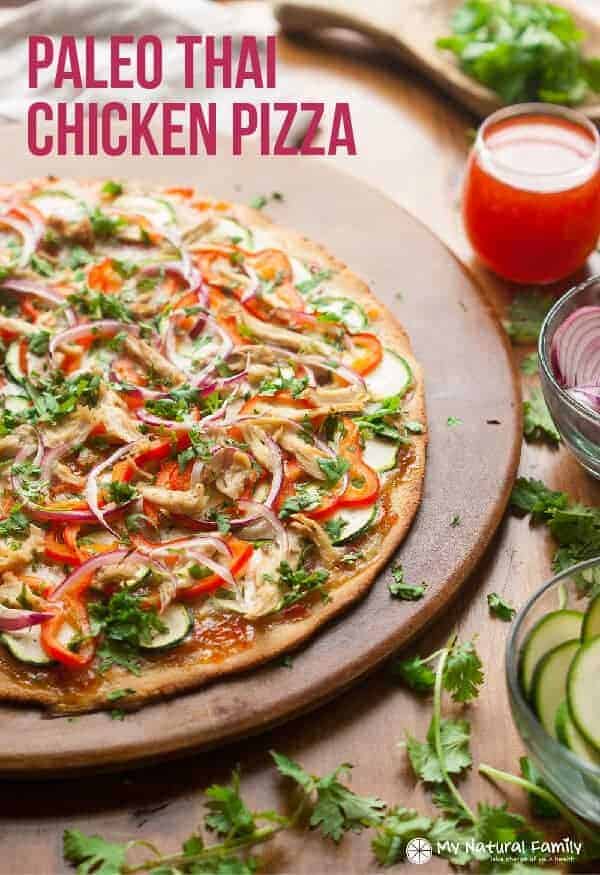 This is SUCH an easy recipe. You basically throw chicken in a pan, make a quick, simple sauce, dump it on and PARTY while your dinner cooks. It's also good if you don't have a grill or it's winter and you don't want to cook outside but you're craving some Paleo BBQ sauce.
This is one of my most popular recipes – and for good reason. The chicken is delicious and it tastes just like a fajita, but you don't even miss the tortillas because of the delicious sauce. Lots of times we have served it without the lettuce just as BBQ chicken with a sauce and fajita vegetables on the side and my whole extended family loves it and requests it. And we can eat what everyone else is having without feeling like we're eating something different. Some times we even serve it with normal people things, like either tortillas, sour cream, cheese, etc. so people can make their own fajitas or just as BBQ chicken and we have other people bring sides.
I've made this countless times. It's really good and really simple and full of flavor. I probably would have starved by now if I didn't discover Indian food. Indian food easy to make Paleo and it's usually gluten-free anyway.
I've made this recipe a bunch of times too. It tastes really good and it's really filling and I swear I can fill the pounds melt off when I eat salads like this with lots of protein.
Yes. This is another Indian recipe. I make this for my children a lot. They are in love with tikka masala. Whenever I serve this, it's quiet except for the sound of kids inhaling their food.
I know this recipe doesn't look like much, but I love chicken shawarma, but it's pretty much impossible to make yourself. So I'm proud of myself for figuring out how to make chicken that tastes similar, without having to set up a whole huge rotisserie in my house.