I found the 25 best Whole30 recipes on Pinterest and are the most popular because they have been pinned the most. In order to maintain healthy blood sugar levels, my husband and I eat Whole30 recipes a lot.
We're amazed at how many Paleo recipes have a lot of sugar in them. Even if the "sugar" in Paleo recipes is honey, molasses, coconut palm sugar, real maple syrup, etc. These forms of sugar are still simple carbs that we try to avoid.
*Please note that most of the links on this page are affiliate links. This means if you click on a link and purchase, you will receive the same price, but I will receive a little money for referring you to the product. This helps keep this blog free for you. I truly appreciate you supporting my blog.
---
MY OTHER RECIPES
I wanted to create this post of the most pinned Best Whole30 recipes so I don't have to weed through all the Paleo recipes and find ones that are Whole30. In order to make this list, each post needs to have at least 50,000 pins on it. That's a lot of pins and, and while it doesn't prove that the recipe is good, it is a strong indicator that a lot of people think it looks good.
Some of these recipes contain butter, which is not strictly Whole30, so please substitute the butter with the fat of your choice, such as ghee, coconut oil, animal fat or coconut butter.
Is your favorite Whole30 recipe on this list? If not, please comment below and tell me what you like and I'll see if it qualifies to be on this list.
If you like these Best Whole30 Recipes, you may also like these recipes:
9 of the Best Ever Whole30 Breakfast Without Eggs Recipes
9 of the Best Ever Whole 30 Breakfast Recipes with Eggs
9 of The Best Whole 30 Crockpot Chicken Recipes for Any Meal
9 of the Best Ever Whole 30 Breakfast Casserole Recipes
Whole 30 Crockpot Recipes Index
9 of the Best Ever Whole 30 Breakfast Casserole Recipes
Best Whole30 Recipes
Tapioca Starch – Chicken Thighs – Onion – Sun-Dried Tomatoes – Coconut Milk
This is the most popular recipe on my blog. I mean, just look at it! It's so easy to throw in the oven and it ends up so flavorful and all roasted to perfection. You have got to try it soon if you haven't already.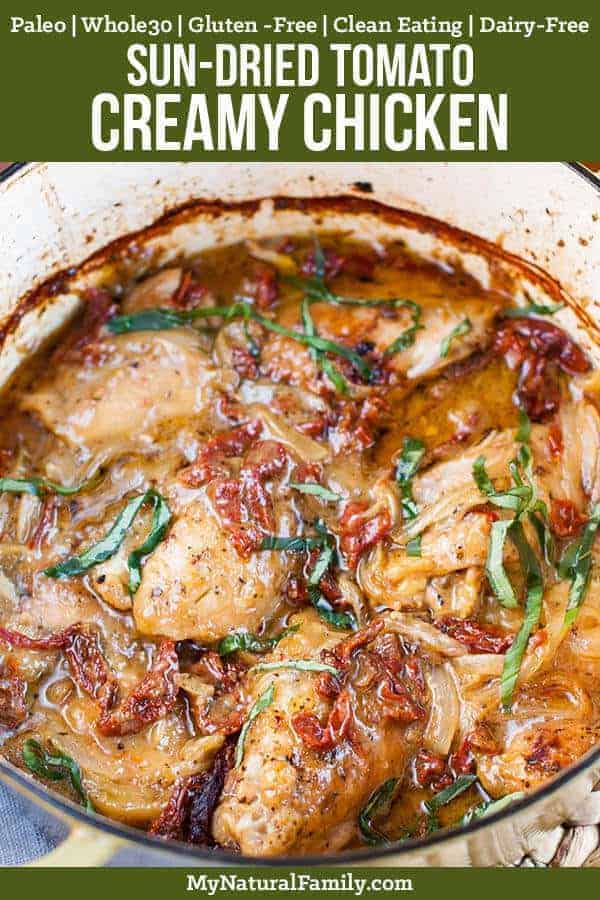 Cauliflower – Butter – Yellow Squash – Carrot – Onion – Coconut Milk – Real Salt  – Garlic Powder – Ground Mustard – Egg Yolk
This mac and cheese is a big hit in our house. My kids beg for it and it doesn't even have any pasta or cheese in it. The carrot gives it the cheesy color and the cauliflower give it the texture and illusion of pasta. You really think you're eating mac and cheese but this is WAY healthier.
Salmon – Lemon – Dill
This very simple baked salmon is so quick and easy to make. It only has three ingredients if you don't count the five herbs. If you are afraid of cooking salmon like I used to be you should try this recipe. Your fears will disappear and you'll be making baked fish every week. Yes, you can also use this recipe for other types of fish.

Chicken Tenders – Flour of Choice – Lemon Juice – Lemons – Black Pepper – Olive Oil Butter – Chicken Stock – Parsley
I came up with a really easy way to make breaded chicken. You could use this method any time you like for any recipe. You don't have to touch raw chicken either. My method is easy, fast and less messy. You'll have got to try it out. I think you'll love it and never bread chicken or meat the conventional way again.