My Whole 30 recipes index is a list of all of the Whole 30 recipes I have. I add to them regularly so you better come back and check every once in a while to see all the new Whole 30 recipes I have.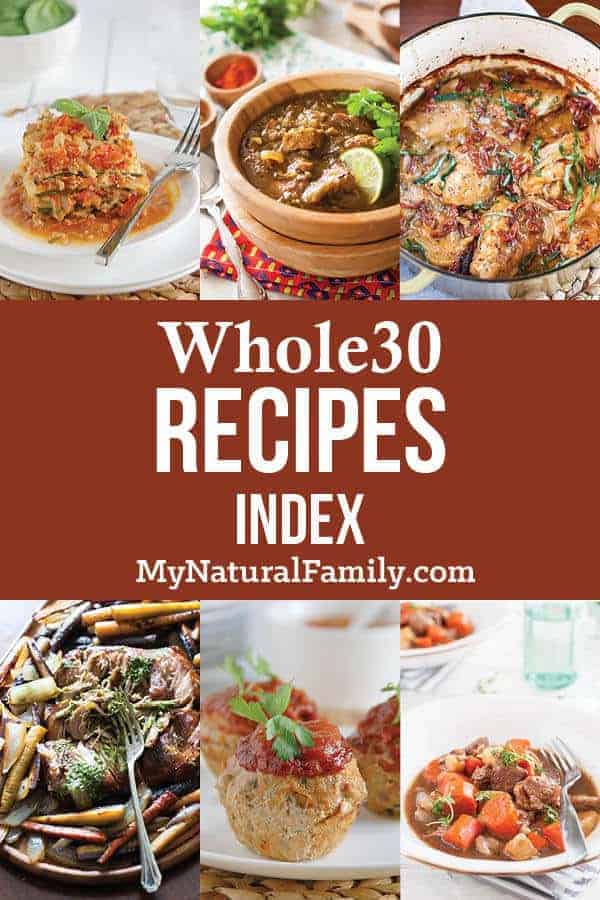 So what is a Whole 30 diet anyway? If you're familiar with a Paleo diet the easiest way for me to explain it is to say that it is a Paleo diet minus the sugar. That means no sugar of any kind. That includes sugars that are allowed on the Paleo diet such as maple syrup, honey, dates, coconut sugar or stevia including other brands of artificial sweeteners.
It's actually not that hard to go without the sugars. My mother does it every day. She does it because she is pre-diabetic and in doing so she has lowered her A1C by 2 points. So actually she isn't pre-diabetic anymore. It has really made a difference for her. She feels so much better when she avoids all forms of sugar.
My mom has learned to not care about cookies, cakes, and other desserts. The hardest part for her is finding substitutes for store-bought items that have sugar added in them. For example, catsup, salad dressings, guacamole, and crackers.
It just makes making dinner so much more difficult. You wouldn't believe how many condiments have added sugar. Read the labels and you'll be shocked. Actually, it's something you need to do if you're going to follow a strict Whole 30 diet.
Basically, my mom has decided to just avoid those kinds of food, rather than look for very expensive sugar-free replacements. She uses tomato sauce in place of catsup. She eats a lot of salsa on things to give it flavor.
When she's ambitious she'll make my Chimichurri Sauce Recipe and use it in place of a condiment or she'll use avocado in place of guacamole with added sugar. Or she might make her own guacamole without the added sugar.
These are just a few suggestions. I'm sure there are many more. If you have some tell me. I'm sure my mom would love to know.
So in preparation, I have developed quite a few Whole 30 recipes. You should check them out. You'll be surprised at all the good meals you can make now. I have a huge selection of Whole 30 recipes from my blog! Here they are below. Enjoy!
Whole30 Recipes from Other Bloggers with over 50,000 Pins Each
Easy Chicken Broccoli Casserole – Grass Fed Girl
Coconut Oil – Broccoli – Onion – Sea Salt – Black Pepper – Mushrooms – Chicken – Chicken Bone Broth – Coconut Milk – Eggs – Nutmeg
Baked Carrot Fries – Healy Eats Real
Carrots – Tapioca flour – Olive Oil – Real Salt – Black Pepper – Garlic Powder – Onion Powder – Thyme
Italian Chicken Fingers – Tastes of Lizzy T
Chicken Tenderloins – Almond Flour – Tapioca Starch – Garlic Salt – Real Salt – Italian Seasoning – Black Pepper – Eggs – Coconut Oil – Paprika
5-Ingredient Whole30 Ranch Dressing – Fed + Fit
Egg – Lemon Juice – Real Salt – Olive Oil – Dill
Avocado Egg Salad – The Roasted Root
Eggs – Avocados – Lemon Juice – Real Salt
3-Ingredient Whole30 Apple Juice Chicken – Oatmeal With A Fork
Apple Juice – Chicken Thighs – Real Salt – Black Pepper
Fried Zucchini Recipe with Cool Dill Dip – Paleo Newbie
Zucchini – Coconut Flour – Paprika – Almond Milk – Egg – Real Salt – Coconut Oil – Coconut Cream – Lemon Juice – Parsley – Dill – Garlic Powder -Black Pepper
Blueberry Muffin Energy Balls – The Healthy Maven
Cashew and or Almonds – Dates – Dried Blueberries – Vanilla – Lemon – Real Salt
Turkey Stuffed Peppers – The Bewitchin Kitchen
Ground Turkey – Marinara Sauce – Basil – Garlic Powder – Spinach – Red Bell Peppers
Sweet Potato, Kale and Shrimp Skillet – Primavera Kitchen
Olive Oil – Onion – Crushed Red Pepper – Garlic – Sweet Potatoes – Shrimp – Kale – Real Salt – Black Pepper
Creamy Lemon Chicken with Asparagus and Mushrooms – Wholesomelicious
Chicken – Coconut Oil – Garlic – Asparagus – Mushrooms – Coconut Milk – Lemon – Real Salt
Bacon Wrapped Guacamole Stuffed Chicken – Closet Cooking
Chicken – Real Salt – Black Pepper – Guacamole – Bacon
Taco Skillets & Paleo Taco Bowls – Sweet C's
Ground Beef or Ground Chicken or Ground Turkey – Onion – Bell Peppers – Tomatoes with Green Chilies  – Taco Seasoning – Kale
Slow Cooker White Chicken Chili – The Real Food Dieticians
Chicken – Ghee – Onion – Bell Pepper – Jalapeno – Garlic – Cumin – Oregano – Chili Powder – Real Salt – Black Pepper – Chicken Broth – Coconut Milk – Lime – Cilantro
Creamy Whole30 Bacon Spaghetti Squash – Paleo Gluten Free Eats
Spaghetti Squash – Bacon – Broccoli – Coconut Milk – Egg – Real Salt – Garlic Powder – Black Pepper
Healthy Broccoli Salad – Faith Food Fitness
Cashews – Apple Cider Vinegar – Curry Powder – Honey – Real Salt – Black Pepper – Broccoli – Cilantro – Red Onion – Craisins – Bacon – Sunflower Seeds
One-Pan Tuscan Pork Chops – Sweet C's
Pork Chops – Oil – Garlic – Tomatoes – Onion – Oregano – Sage – Basil
Zucchini Noodles with Creamy Avocado Pesto – Eat Yourself Skinny
Zucchini – Olive Oil – Avocados – Fresh Basil – Garlic – Pine Nuts – Lemon Juice – Real Salt – Black Pepper
Spaghetti Squash Recipe with Pesto – A Family Feast
Spaghetti Squash – Tomatoes – Walnuts -Garlic – Fresh Basil – Spinach – Lemon – Olive Oil – Real Salt – Black Pepper
Lemon Rosemary Chicken – Bravo For Paleo
Olive Oil – Chicken Breasts – Sweet Potatoes – Lemon – Rosemary – Garlic – Real Salt – Black Pepper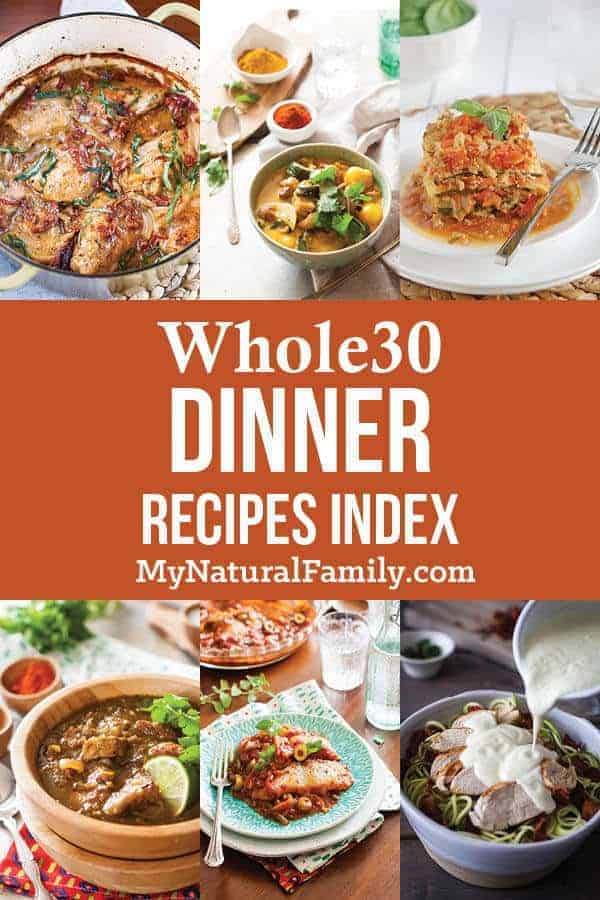 Check out these Whole30 dinner recipes from my blog! I have a whole bunch of Whole30 dinner recipes with a big variety of different kinds of meals. Some are made with chicken, beef, pork or fish. That's the beauty of it all, you can choose which ones look good to you. CLICK to Pin This! >> What is Whole30 anyway? Basically, it's a Paleo diet without the sugar. For those of you who don't know what Paleo is. In a small nutshell, it's gluten-free, dairy-free, real food or clean eating which are the same thing. The difference is that with…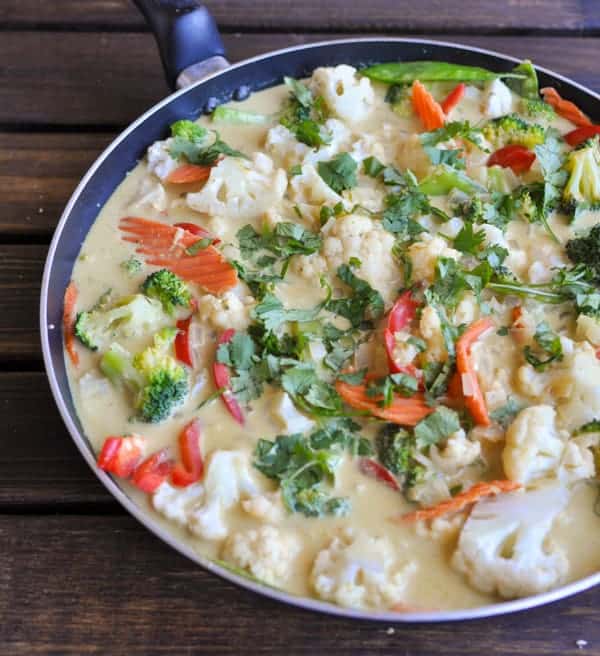 This creamy and delicious mixed vegetable curry with coconut milk is super simple to make and packed full of vegetables, so it makes a healthy, easy, and hearty dinner any time of the year! It's Monday! And I am 98% positive that I am completely unprepared for the upcoming week.  I almost forgot about my little girl's field trip this morning (she would have been devastated), I didn't get nearly enough done off my to-do list over the weekend (you should see the piles of laundry I need to do),  I didn't get my chicken cooked for the week (I…
Mixed Vegetable Curry with Coconut Milk Recipe {Paleo, Vegan, Clean Eating, Gluten-Free, Dairy-Free, Whole 30}Read More