You have just found a list of the best ever clean eating dinner recipes. You won't believe all of the great clean eating main dish recipes there are here. I don't know about you, but I am always on the look out for good recipes that I can make for dinner.
At my house, cooking is all about dinner – that's really the only meal I ever spend much time cooking for. That's why I made a post with the best clean eating dinner recipes or I could call it the best clean eating main dish recipes. Either way, these recipes are the best out there. Just look at them – don't they make your mouth water?
Clean eating basically means cooking from scratch and avoiding food additives and things that have been altered, such as regular white flour, processed foods and some dairy that has been processed.
Basically, it's going back to eating like they did before the modernization of food came about the 1930's or so. So many health problems have come up in our society since that time. So there's really nothing all that strange about the clean eating diet.
But cutting out the processed food can be difficult for some people who are used to fast food, frozen food and canned food. You may be surprised how it's really not that difficult to whip up a lot of these recipes and you also may be surprised at how much better you feel when you eat these clean eating recipes.
Clean eating is all about good clean wholesome food and none of these clean eating dinner recipes will disappoint. Check them all out down to the very last one, they are all great. Thanks for stopping by and I hope you will come back often. This post could be your one-stop clean eating dinner recipe box.
Clean Eating Dinner Recipes from Other Bloggers Pinned Over 50,000 Times Each
Spaghetti Squash – Large Shrimp – Olive Oil – Butter – Garlic – Lemon – Dry White Wine – Dijon Mustard – Greek Yogurt – Red Pepper Flakes
This is a homemade version of shrimp scampi using spaghetti Squash instead of pasta. Roasting the spaghetti squash in the oven is really easy and makes it taste down right delicious. You can add greek yogurt to make this dish creamier. I like to drain the extra liquid from the spaghetti squash so it doesn't get too runny.
Shrimp – Yellow, Red and Orange Bell Peppers – Red Onion – Use my Clean Eating Tortillas Recipe
These fajitas are made in one sheet pan. That's why they are so easy to make. Because the bell peppers and onions are sliced they take the same amount of cooking time as the shrimp which makes it very convenient. Clean up is minimal that would be the best part if these fajitas weren't so yummy.
Use brown rice to make them Clean Eating – Salsa – Romaine Lettuce – Canned Corn – Black Beans – Roma Tomatoes – Avocado – Cilantro – Sour Cream – Chipotle Paste – Garlic – Lime
Skip going to the Chipotle restaurant (One opened up in my area about a year ago) and make your own burrito bowls at home. These are much healthier, taste a hundred time better and are fairly easy to make.
Asparagus – Uncooked Shrimp – Olive Oil – Garlic – Red Pepper Flakes – Fresh Parsley – Lemon Juice – Butter
Here is a one pan roasted shrimp recipe with tossed asparagus. It is bursting with flavor but it only takes about fifteen minutes to make. This is a very easy , satisfying meal that actually tastes like a gourmet meal.
Olive Oil – Garlic – Jalapeno – Quinoa – Vegetable Broth – Black Beans – Fire-Roasted Tomatoes – Corn Kernels – Avocado – Lime –  Cilantro
This Mexican meal is cooked in one pan too. It is so easy to make, wonderfully light and very nutritious and healthy. The quinoa is cooked in the pan so that make sit super super easy. No cooking quinoa first.
Carrots – Red Onion – Freeze Dried Cilantro – Lime – Coconut Aminos – Red Chili Flakes – Ground Chicken – Coconut Milk – Red Curry Paste – Almond Butter
These creamy curry meatballs have a hint of lime that makes them so darn good. I love the flavor of curry when it isn't too strong. The amount of curry used is always optional and debatable.
Shrimp – Garlic – Red Pepper Flakes – Chicken Stock – Lemon – Zucchini – Grated Parmesan – Parsley Leaves
Here is a low-carb version of a traditional shrimp scampi dish made with zucchini noodles. It is unbelievably quick, easy and healthy. You'll fall in love with this pasta free favorite dish. 
Shrimp – Garlic – Tomato – Yellow Summer Squash – Jalapeno – Red Onion – Parmesan Crumbles – Almond Flour – Cream – Eggs
This a  better for you veggie bake with shrimp. It's low carb, gluten-free and very simple to make. It can be made in under an hour. The vegetables are lean protein and the spice and herbs make it a big crowd pleaser. 
Cauliflower – Garlic – Milk – Broth – Canned White Beans – Cornmeal – Shredded Cheese – Kale – Bacon Fat – Shrimp
Nothing could make me happier than eating this tender-sweet, spicy shrimp with smoky garlic kale over a nice big mount of creamy cauliflower mash. Some people call it cauliflower rice. No matter what you call it, it's quite delicious and extremely healthy. I've gained a new respect for cauliflower after making cauliflower rice several times.
These are all of the clean eating chicken recipes that I have developed myself. They are all original recipes that I think you will enjoy! This means that all of these recipes are originals and you won't find them anywhere else unless someone copied my recipe.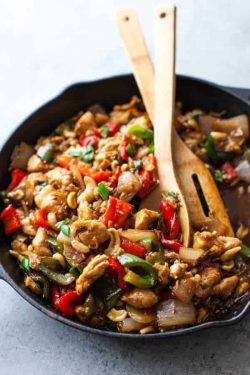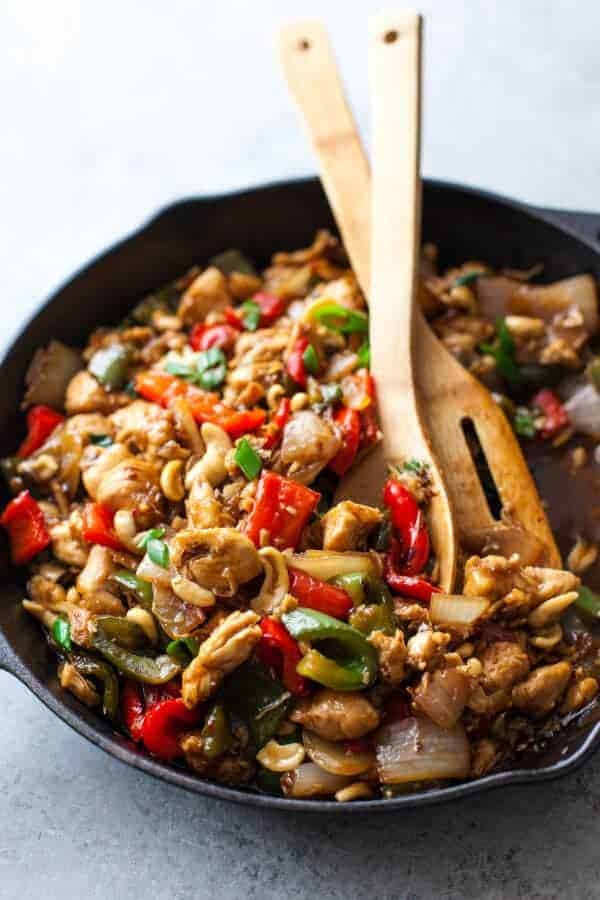 This Paleo cashew chicken is one of my favorites because it is so quick and easy to make. Of course, it tastes wonderful too. I wouldn't eat it if it didn't. One time my sister and brother were at my house and we were trying to decide if we wanted to go out or make something. I told them I could have this meal made before they could drive to the fast food place and bring it back. They didn't believe me, but I proved them wrong. It totally only took me 20 minutes to make it from start to finish. They even asked for the recipe.
20 Minute Paleo Cashew Chicken Recipe with Video {Gluten-Free, Clean Eating, Dairy-Free}Read More