This maple-baked chicken with sweet potatoes skillet recipe is all made in one pan and is super easy. It's perfect for fall with sweet potatoes and cranberries. The only work is getting started and putting the ingredients in the pan and browning the chicken. After that, all you do is move the pan to the oven do anything you want while the chicken and sweet potatoes get a delicious, caramelized coating on them. Your kitchen will smell fantastic!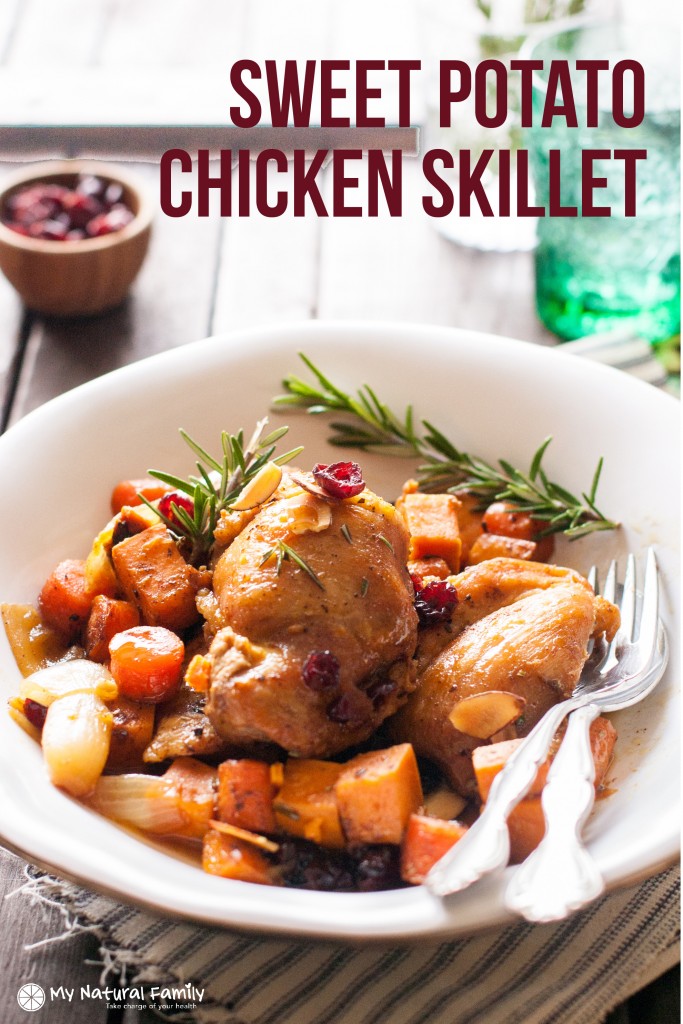 Fall is officially here in Utah! The trees are starting to get bare. The leaves are falling. The air is cooler. We are now moving into a different type of weather and season. We thought this sweet potato chicken skillet recipe would be perfect for fall. Really it would be great any time of the year, especially on the Paleo diet. Cause I kinda think the sweet potatoes/yams – whatever you want to call them – are the perfect Paleo carb.
*Please note that most of the links on this page are affiliate links. This means if you click on a link and purchase, you will receive the same price, but I will receive a little money for referring you to the product. This helps keep this blog free for you. I truly appreciate you supporting my blog.
---
MY OTHER RECIPES
I love how I can throw all the ingredients in one pot and I really like how you get a light caramelization from the sweet potatoes. I love the surprise flavor from the rosemary and the dried cranberries and I love how the entire meal is in one dish.
If you don't already grow rosemary, I've found it to be one of the easiest herbs of all to grow. I've had really good luck growing it outdoors in my garden, and sometimes it will even winter over. I've also had good luck growing one indoors under a grow light. I just love to be able to cut fresh rosemary whenever I want.
It's one of my favorite herbs and so expensive to buy in the store. If you grow it outside, the plans get huge and you can get tons of it and try it and dry enough to last for years and/or to give to all your friends and neighbors.
To toast the almonds, put them in a single layer on a baking sheet and bake at 350 until golden brown. I've never timed how long that takes, but maybe 10 minutes or so.
This dish is colorful and flavorful, as well as pretty easy to throw together. I added rosemary because it paired well with the flavors and added a nice pop of color. Make sure to use a pan that is oven-proof, as well as a lid.
I haven't tried it, but I totally bet you could use a turkey tenderloin and make this for a simple Thanksgiving dinner for one or two. This dish is really good served with Brussel Sprouts on the side too.
I think these maple-baked chicken with sweet potatoes turned out great. What do you think? Will you be giving it a try? Do you think your family would eat this and enjoy it? Share your comments and results with me below!
If you like this Maple-Baked Chicken with Sweet Potatoes, you may also like these recipes:
Paleo Dinner Recipes Index – You Always Need More
9 of the Best Ever Paleo Crock Pot Sweet Potato Recipes
Print
Sweet Potato Chicken Skillet Recipe
This dish was colorful and flavorful, as well as pretty easy to throw together.I added rosemary because it pared will with the flavors and added a nice pop of color. Make sure to use a pan that is oven-proof, as well as a lid.
Author:
Prep Time:

30 minutes

Cook Time:

45 minutes

Total Time:

75 minutes

Yield:

6

1

x
Category:

Main Course

Cuisine:

Paleo
Instructions
Preheat the oven to 375 degrees.
Heat the oil in a large frying pan to medium high. Season both sides of the chicken thighs with the coarse salt and pepper. Add the chicken to the hot pan and brown well on both sides. Remove the chicken from the pan and set aside.
Add the sweet potato, carrots, and onion to the same pan the chicken was cooked in and saute until the vegetables develop some caramelization, about 5-6 minutes on medium/high heat.
Add the chicken back into the pan and pile the vegetables over the top of the chicken. Add the maple syrup, lemon juice, and chicken broth to the pan and bring to a boil.
 Cover with an oven-proof lid and finish cooking in the oven for 35-40 minutes, or until chicken is tender.
Remove the lid from the pan and cook an additional 5 minutes in the oven.
Remove and garnish with toasted almonds and dried cranberries.
Recipe Card powered by
What is your favorite part about this maple glazed chicken with sweet potatoes recipe? It might even be good for Thanksgiving dinner if you don't want to make a turkey.